While Omega and Rolex create magnificent dive watches, their products are extremely expensive, costing thousands of dollars. The majority of buyers will most likely be turned off by such a price tag. You'll hardly find a decent dive watch in the attractive price range of under $100, let alone an automatic one.
But the good news is that there is a dive watch that took inspiration from the "Rolex Submariner"(one of the most iconic timepieces ever) that is quite affordable.
It's the "Invicta Pro Diver". When I got my hands on this watch, we were blown away by the level of craftsmanship that Invicta managed to pack into it. That's why in this article, I decided to give our two cents about this watch. So, let's begin.
Let's first look at the main features and specifications before diving into our Invicta Pro Diver Review.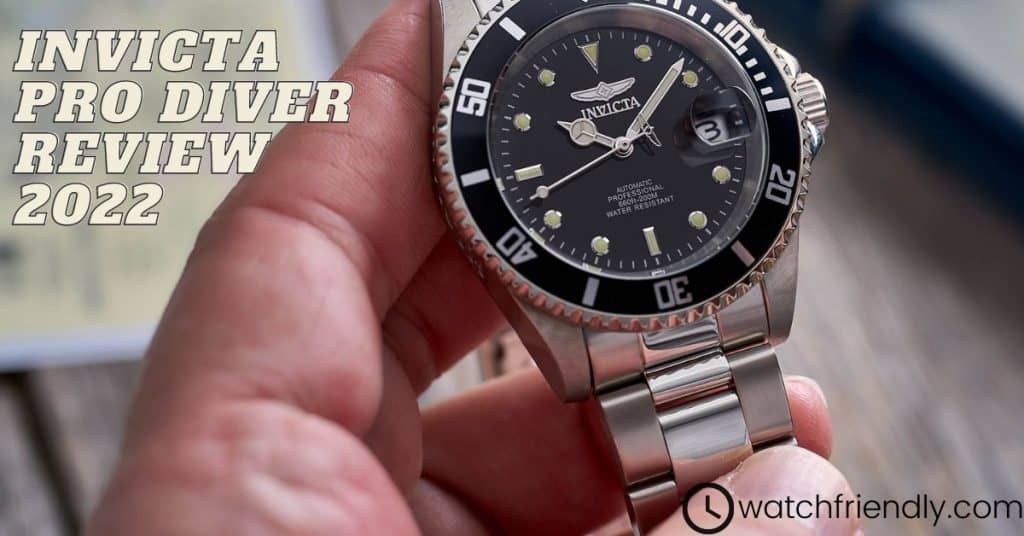 Invicta Pro Diver Review: Main Features
Day display with cyclops window at 3 o'clock position.
200m/660ft water resistance.
Screw-down crown with protection
To track the remaining time, a unidirectional bezel is used.
Durable steel strap and case
Specifications
Display Type: Analog
Clasp: Fold-over-safety-clasp
Case Material: Stainless Steel
Case Diameter: 40 mm
Case Thickness: 14mm
Lug to Lug: 48mm
Dial Color: Black, Two-tone black, and two-tone blue
Band Material: Stainless Steel
Band Width: 20mm
Band Color: Silver
Bezel Material: Stainless Steel
Crystal/Lens: Scratch-Resistant Mineral Crystal
Movement: Automatic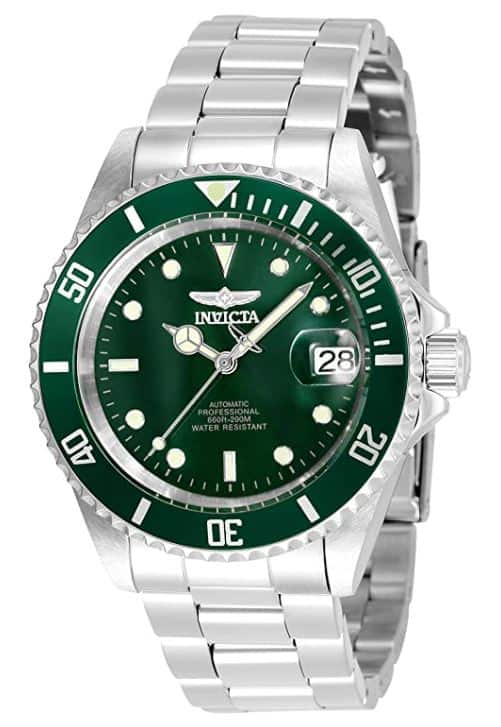 The Case: Stainless Steel
The stainless steel case of Invicta Pro Diver has a mixed design of polished and brushed surfaces that have been machined to an excellent level given the price. An exhibition window is featured on the rear of the case so that you can see the movement which is a nice feature to have at this price point. 
The Invicta Pro Diver has a casing diameter of 40mm, a lug-to-lug length of 48mm, and a thickness of 14mm. These classic dimensions, together with the completely ageless case style, make for a very comfortable fit on the wrist. 
The Invicta logo carved in huge letters onto the left side of the case is a cause of frustration for many users. This was something I was worried about ruining the watch, but it has played a smaller role than I imagined. The engraving itself is very well done, but it is mostly hidden by my sleeve while I'm wearing it.
The Crown: 7 mm
You won't have to struggle with tiny crowns because this watch featured a 7mm crown so that you can enjoy manually winding your watches. Because of its gripping surface, we found the crown to be easy to use. The crown guard, which covers a piece of the crown, will protect against accidental hits. It will also prevent water from entering the watch while diving.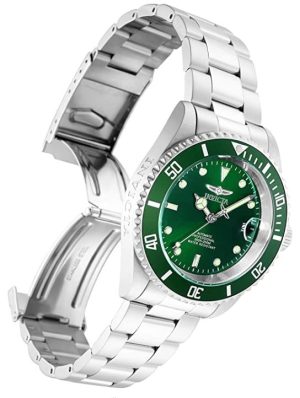 Related Read: Casio Duro Review 2022
The Bezel
The stainless steel bezel on the Invicta Pro Diver is big, clear, and pretty tough. One would assume the coin edge bezel to feel fragile or cheap at this price range, however, we found the bezel action to be on track for the pricing. There is some wiggle-play between clicks but at this affordable price range, we were not expecting this to be the finest bezel ever. However, we must say that the quality was a pleasant surprise.
This bezel has a rougher edge for better grip. But, if you plan on diving with this watch, you will face some difficulties. We found it difficult to spin it because of its stiffness and the machining of the edge.
If you'd like to dive a bit deeper into how bezels, check out our article on what is a watch bezel used for.
The Dial
The black dial of the Invicta Pro Diver is protected by mineral crystal glass, which is not as scratch-resistant as Sapphire crystal, but at this price point, we can't expect anything more. Even though it's very reflective, I could read the dial whenever I looked at it thanks to the mineral glass for being so clear.  
Since it's a submariner homage, it has a design that is quite similar to the Submariner. You can find the Invicta logo below the 12 o'clock position. They've also added a small part of their logo to the tail end of the second hand to better mark the watch.
The design of the hour markers and minute markers is similar to Rolex's. Like the Submariner design, the date window and magnifier are located at 3 o'clock.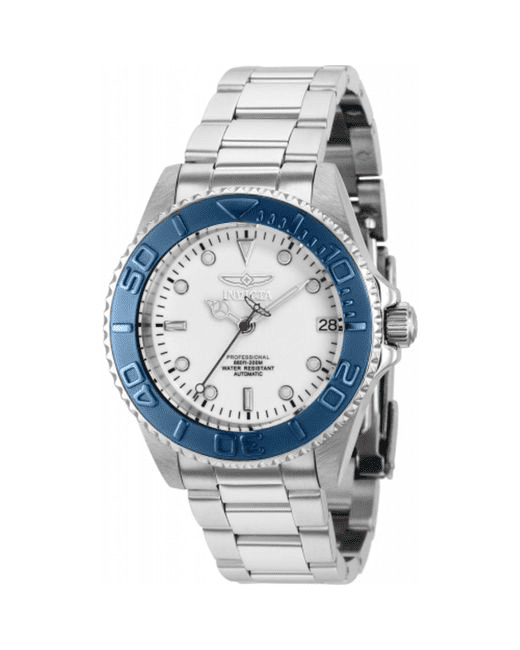 The Hands
There are a few differences to note with the Pro Diver, aside from the biggest difference in the logo. To begin with, the hour marks are smaller and they have a slight yellowish-green tint to them. Moreover, the dial is significantly deeper in the watch than seen in the photos, resulting in a thick chapter ring, which isn't necessarily a bad thing.
The quality of lume on the markers is one area where the Invicta Pro Diver falls short although I've found even less lume applied on expensive watches than this watch. According to our tests, it is barely visible in low light and fades soon. To put it another way, if you rely on it when diving, being unable to see the marks can be a serious problem. 
The Strap
The Invicta Pro Diver's stainless-steel strap has both positive and negative aspects. The bracelet is made of solid stainless steel links with polished center and brushed outer links, apart from the hollow end links. Although it's a little jangly, they're decent for the price and they weigh a little and match the watch's style. The links also operate very smoothly and do not become stuck together due to friction.
The stainless-steel strap has a 20mm lug width that curves down to about 18mm at the clasp, which I find to be very well-balanced and comfortable.
If you're interested in different types of watch straps you can check our article!
The Clasp
The fold-over clasp is quite basic – double locking, with the friction fit as the primary clasp action and the folding lock clicking on top of that. The clasp also has 4 micro-adjustments, which is a saving grace for added safety and when sizing the Invicta Pro Diver's strap. The primary issue I'm facing is that after the flip lock is clicked in, it's extremely stiff. I had to use a lot of force to get it open.
The Movement
The Invicta Pro Diver offers the Seiko automatic NH35A movement. We can't often see the Seiko movement in affordable watches like this watch. This is a fantastic-quality, precise movement that is typically used in microbrand watches that are several times more expensive than Invicta timepieces. The automatic rotor is customized with Invicta's signature yellow and some branding text.
The specs of this watch's movement:
Power Reserve of 41 Hours
-20/ +40 seconds each day
Manual winding and automatic
Another amazing Diver: Orient Mako II review
Invicta Pro Diver Review 2023: Pros & Cons
Pros
Reliable automatic movement
Decent quality case and strap
Variable size
Affordable
Looks expensive
Cons
Copied design
Engraved Invicta logo
Some may not like the polished design
Commonly Asked Questions
Can You Swim with the Invicta Pro Diver?
Invicta pro diver offers 50-300 meter water-resistant. But many people complain that all the pro diver watches are likely to leak even when swimming, bathing, hand washing, raining, etc. So we would recommend you NOT to wear this watch while swimming.
Is Invicta Pro Diver Comfortable to Wear?
When buying a watch, comfort is commonly the last thing on your mind, but it is critical once you start wearing it. Fortunately, the Invicta Pro Diver passes with high marks. It's neither too light nor too heavy, and it fits well on your wrist. If you decide to buy it, you should have no problems with it. Comfort was one of our main incentives behind writing this Invicta Pro Diver Review.
Related Read: Orient Ray II Diver Review
Final Thoughts
I think the Invicta Pro Diver watch is the one you should consider adding to your watch collection. Aside from some flaws, this watch has far more positive aspects than it should have in this budget. And those positive aspects of this watch forced us to write this Invicta Pro Diver Review. 
The black dial is protected by mineral crystal glass and the full body of this watch is covered by stainless steel. It got polished center links and brushed lugs to mix things up a bit. This watch offers the Seiko NH35A automatic movement that is really reliable and accurate. You can actually see it through the exhibition case-back with the yellow flywheel making for a nice touch.
Even though it's a pro diver watch, this watch lacks really diving capability. It got many issues like the bezel being very stiff, the poor quality of the luminescent hands, etc. It's a dress watch rather than a diving piece. But I think at this attractive price range of 100$, this watch is a great deal.
If you have any more questions, don't forget to ask in the comment section below.