Are you looking for a sleek-looking sporty watch that provides amazing value for money?
You're in the right place!
As I am kind of a watch enthusiast, I naturally ended up having a collection of different timepieces. One day while going through my watch collection, I discovered my trusty old Timex Weekender. I have been using it for a fair amount of time and can safely say that it's worth the money. So, I combined my experience and some digging to give you the ultimate Timex Weekender review.
Timex Weekender is so far one of the best classic watches on an affordable budget. The Weekender comes in a variety of designs, sizes, and colors but the most alluring one is the classic leather strap (especially genuine leather strap) or NATO strap with the clean face.
If you are reluctant to go through the whole review and want a straightforward answer to the question that whether you should be buying Timex Weekender or not, then I would definitely suggest you give it a shot. But if you want to get a compact knowledge of this watch and then intend to come to a conclusion, this review is for you regarding all the answers to your questions.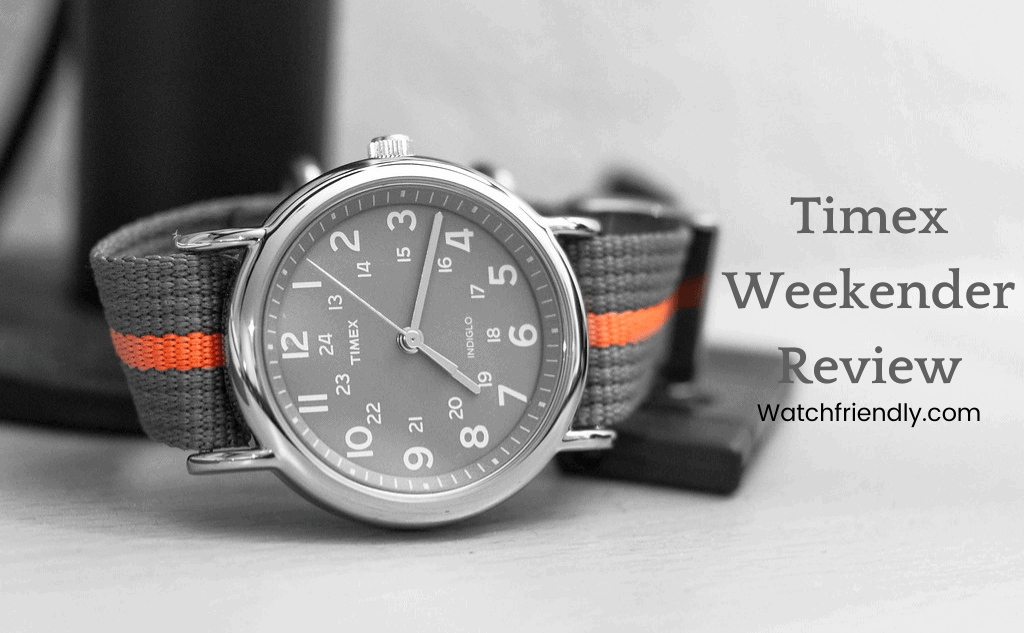 Timex Weekender's Specifications & Features: In-Depth Analysis
Specifications
Diameter of Case: 38mm
Thickness of Case: 9.15mm
Case Material: Chrome-plated brass
Caseback: Stainless steel
Crystal: Mineral Crystal glass
Band: 8′′ long blue nylon slip-through strap with yellow stripe
Measurements of Strap: 20 mm wide x 8 inches long x 1.25mm thick
Weight: 46g (34g w/o strap)
Lug to Lug:5mm
Lug width: 20mm
Water resistance: 30mm
Battery: CR2016 cell
Dial: Arabic Markings (Full) + 24 Hour Time
Movement: Quartz Analog
Backlight: INDIGLO® Night-Light
Crown: Pull/Push
Clasp: Tang Buckle
Functions: Hours, minutes, seconds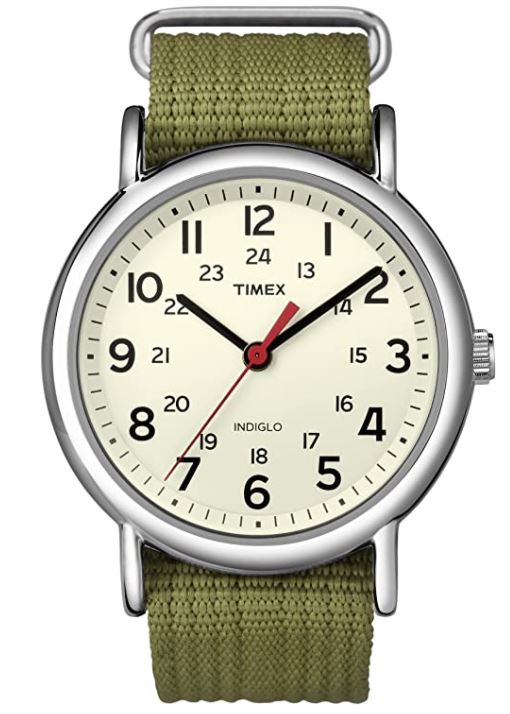 First Impression
Timex weekender gives off a comfortable, versatile, and cool watch vibe despite being super reasonably priced. Weekender basics feature slip-through straps that may be quickly changed to match your clothing or mood.
One of the most notable sides of the Weekender is it's basically natural, straightforward, gorgeous, and classy without making it way too fancy. It feels less stuffy and goes with any kind of style.
The Weekender is not that sort of watch that's so flashy and will catch anyone's eyes at a subconscious sight. It's designed to be a simple, spontaneous, and minimalist one. It's also quite lightweight.
The first impression of a product greatly impacts the buyer. The Weekender is capable enough to give off a promising impression considering its price. It is a decent one of all quartz watches. Though the first impression varies from person to person, personally I liked it and would recommend you to take a look at this.
Performance
The Timex Weekender is equipped with a credible Timex quartz movement that will last for at least three years before needing the battery to be replaced. So accurate timekeeping is guaranteed as long as the battery is replaced every few years.
The Weekender's got a useful feature. It is 30m water-resistant although it's not meant for excessive immersion in water. To verify its water resistance rating, I swam with it and kept it under a 30m water vessel. To be very honest, I got myself very astonished as the Weekender could handle all these torments very efficiently. It did not leak or compromise its performance.
As far as I know, no one ever faced any time issue in this watch including me. It's quite handy and useful.
From my personal experience, I am quite happy about its overall performance and can assure you that u won't definitely be disappointed. The Weekender provided precisely what it promised, and I relished the carefree feeling of wearing this watch.
Related Post: Timex Easy Reader Review
Case & Crystal
The weekender is a well-crafted watch that is trustworthy enough and there are barely any defects to notice. On a steel case, it has an extremely clean brass rounded bezel.
The glass is a plain old mineral glass crystal, not the more expensive sapphire, so it's a little less scratch-prone. But if you are a severe user, then the mineral is occasionally less prone to shatter.
Dial
As it is flat and flush with the bezel, it doesn't act like it's popping its head out and inviting scratches. As a result, it will most likely withstand the test of time as a regular wearer!
The variant of the Weekender that I bought was a 38mm dial. The size of the dial felt very decent and comfortable to me. This was suitable enough to fit on any man's average-sized wrist without becoming overbearing.
The dial of my one is matte black with white markings. It features huge Arabic numerals in a straightforward typeface. It has a laid-back vibe to it. There are also other dial color variants like- White dial, blue dial, etc. In black dial, the silver-colored hour & minute hand and a red-colored second hand look very dashing.
The chronograph version of the Weekender is also available which mainly features three extra sub-dials for more time accuracy. It also has a date window which is quite handy. But I personally like the non-Chrono version for its unassuming design.
On Timex watches, the INDIGLO light is always a wonderful feature. It's often a great problem to read the exact time when it is dark. When you press the Weekender's crown, a cool blue-green electronic Indiglo glow illuminates the entire dial. It's also very soothing to the eyes.
Interchangeability of Straps
The Weekender's removable and replaceable strap is one of its most innovative features. In this aspect, it probably exceeds all other watches in the same price range. When you first purchase the Weekender, it comes with a nylon strap in the color of your choice, but the strap can be easily pulled out of the watch face and replaced with another.
This feature makes the Weekender a versatile watch. You may purchase some additional Nato strap materials and keep replacing your watch with new straps regularly so that you can experience wearing a different new watch every day. It is exactly the same watch that you may have bought several months ago, but with a different strap, it'll appear to be a whole different watch.
The Weekender's efficiency to mix and match various watch faces and NATO strap options basically mean you can wear it everywhere. You can be creative with band colors and adorn them to your heart's content.
Durability
As the Weekender is available at a very reasonable price, you should not expect its durability to be way too good. But trust me, its durability is too good for a budget watch! Without hesitation, I can definitely assure you that it is durable enough to amaze you and exceed your expectation.
I bought my Weekender most probably 3 years ago and thought that maybe it wouldn't last that long and I gotta buy another watch for rough use very soon. But surprisingly till now, it has been able to keep up with my rough use with just having some minor scratch in it. The more interesting fact is, I haven't even had to change the battery even once!
So, from my personal experience, I gotta say that the durability of the Weekender is up to mark.
Affordability
The most enchanting part of the Weekender is its insanely reasonable pricing. It's one of the most affordable watches out there. Its affordability is one of the reasons behind writing this timex weekender review.
You can get a Weekender for just under $50. You can purchase this versatile watch just by saving a little portion of the money that u might've spent by going to McDonald's with your friends and having some Fast-food!
This pricing advantage attracts most of the customers who want to get a decent watch considering its looks and performance at affordable pricing. I can confidently assure you that you will be satisfied with it.
Related Post: Best Watches Under $500
Pros & Cons
Naturally, the Weekender has some flaws. So, I am upholding some pros and cons of the Timex Weekender.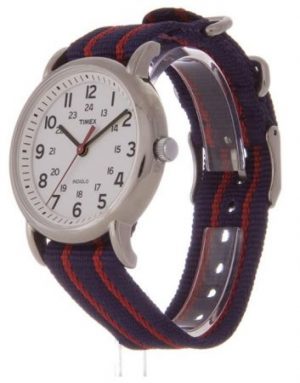 Pros & Cons
Pros
Incredible affordability
Strap's interchangeability
Attractive Indiglo backlight
Decent water resistance
Classy with promising performance 
Shows 24-Hour military time
Cons
The loud tick may feel irritating
Scratch-resistance of Mineral glass is not satisfactory
Some users may feel the dial is too big on the wrist
Frequently Answered Questions
After reading our ''Timex Weekender Review'', you may have some inquiries. So, I'm including some most common questions to make sure you know all details about this watch before you buy it.
Is The Timex Weekender loud?
Timex Weekender is a bit loud which may be bothersome to some users. Although it didn't feel like a major issue to me, if you consider slight loudness to be irritating then u should rethink buying it.
Where to find replaceable straps?
You can find straps on Timex's official page. In addition, there's a good collection of watch straps that you can find on Amazon as well. 
Final Thoughts
To be completely honest, the Weekender is an affordable quartz timepiece with a simple design that is quite perfect for casual wear. It has a minimalist design language, quite shiny appearance, and changeable straps that help to create a wide variety.
Its biggest issue may be the loud tick that should be a matter of consideration for the buyers. There are also some other minor issues but those aren't that much of a problem when you consider its affordable price.
The main work of a watch, to show the proper time, is quite handled perfectly by the Weekender. It's definitely a daily beater that would satisfy its daily wearer.
So, without having further hesitation, go and grab this inexpensive quartz of your own and enjoy its every bit of variety. Hope this Timex Weekender Review helped you to reach the conclusion a lot and gave an upgrade to your watch collection!