Watches are a thing of passion for all kinds of people. To put it simply, it reflects a person's personality. So naturally, people are quite picky when it comes to choosing a watch. They want to wear something that defines them.
That's where a Dive watch comes in. Our Casio Duro Review explores the amazing features of one of the best reasonable dive watches out there.
Dive watches are the most versatile timepieces. They're dependable, easy to read, and frequently come with rotating bezels, screw-down crowns, and water resistance of up to 200 meters. And while most dive watches come with a hefty price tag, there are some that are within buying range.
But are they worth buying no matter how reasonably priced they are? Let's find out!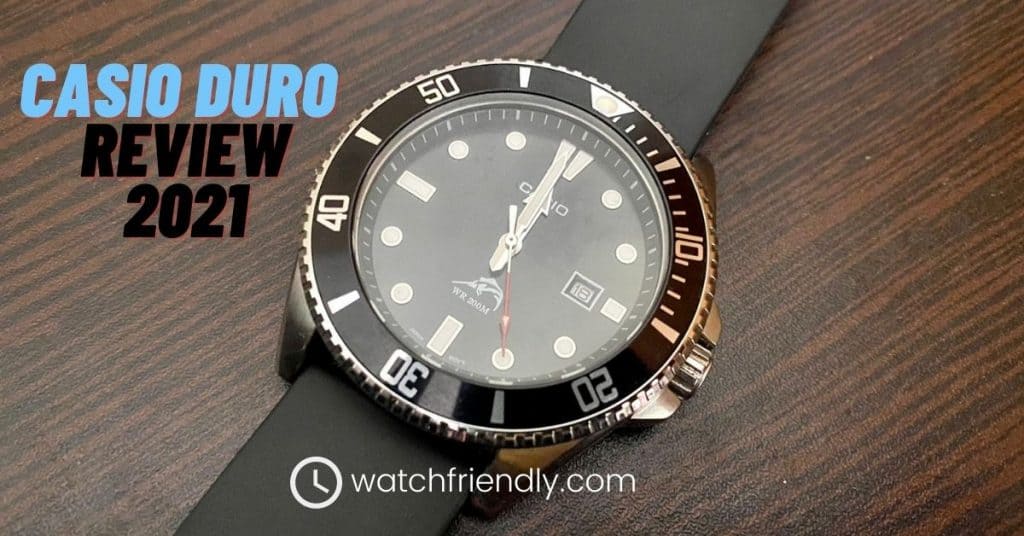 The Casio Duro analog watch ( Casio mdv106) is apparently the most underrated dive watch out there. I have a thing for quartz watches and therefore decided to go for it when I first laid my eyes on this magnificent timepiece. Since it was from the OG watch manufacturer Casio, I thought it'd live up to its mark.
And now, after using it for a year, I can say confidently that this is one of the best budget dive watches available for around $50, and it is certainly one to consider if you love to wear quartz watches.
If you're looking for a reasonable timepiece for everyday wear, check out our Timex Waterbury Classic Review!
The "problem" with low-cost watches is that their quality is naturally inferior to those of expensive watches. In many situations, the most affordable dive watches make significant quality sacrifices. They barely endure a short time before breaking, have no weight or heaviness, and are generally rattly.
But The Casio Duro is a watch that punches far above its weight, and considering the build quality and finishes, it's hard to believe it only costs under $70. When on sale, it can even drop down to under $50! Click below to check today's price.
In this post, we will review the Casio MDV106-1AV 200M diver and go over all of its features in detail. While doing it, you'll discover that the Casio MDV106-1AV is a watch that provides incredible value for money.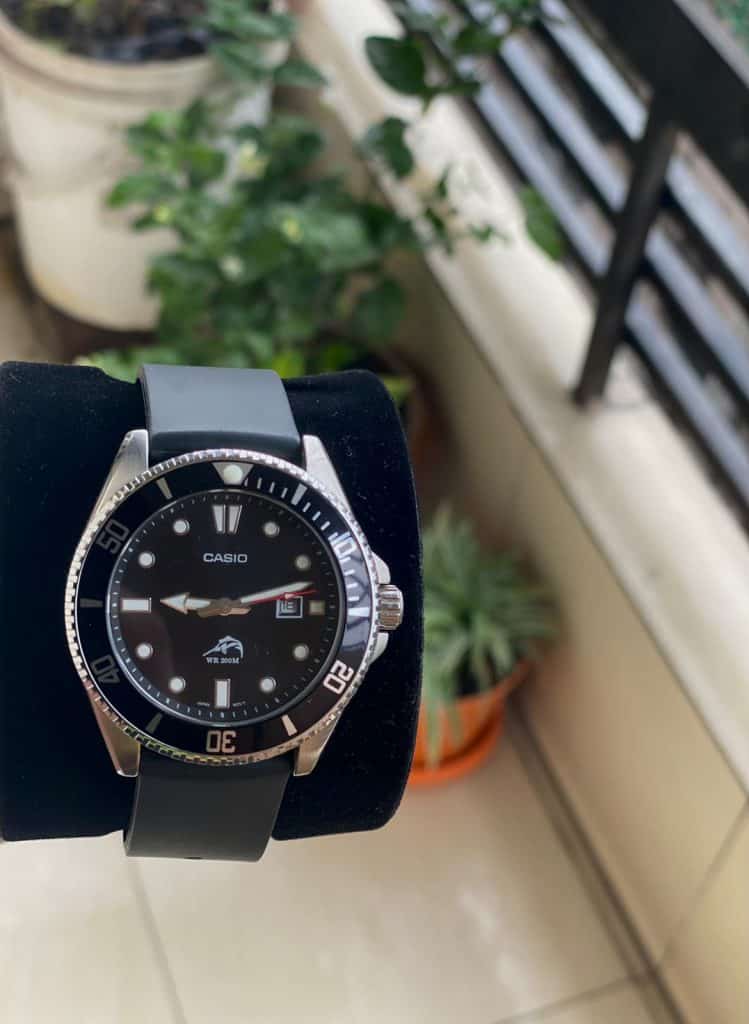 Casio Duro Review 2023: Specification and Features (MDV106)
Specs
Model: Casio mdv106
Case/Bezel: Stainless Steel
Case Size: 44mm
Case Thickness: 13mm
Lug width: 22mm
Weight: 92g
Crystal: Mineral Glass(flat)
Strap: Rubber strap with pin buckle
Lume: Hands and hours indices
Dimensions: 48.5 X 44.2 X 12.1-mm
Movement: Casio Quartz Module #2784
Battery life: 3 years.
Features
·         Black Stainless-Steel case and Resin Band
·         Black Dial with a date window at 3 O'clock and a screw-down crown
·         Luminous markers and hour hands; Sweep second hand with sturdy mineral crystal
·         Unidirectional bezel
·         Water-resistant to 200 M (660 feet)
Dial & Hands
What I like about this dial is how clean and legible it is. It has all of the functions you'd expect in a dive watch, and it just looks beautiful. You could even dare to compare it with the Rolex submariner!
It features a black dial with a sunburst finish as its background. The watch's well-crafted dial adds a lot to its appearance, and it becomes even more spectacular as the sun shines on it, changing its appearance.
The dial includes large white applied markings with illumination for nighttime legibility. A chrome metal border surrounds the marks. The depth rating, the Casio logo, and the marlin are the only things printed on the dial. The cool marlin logo in the middle is a fantastic feature that I love.
If you're looking for watches with cool lume, check out our Timex Weekender Review.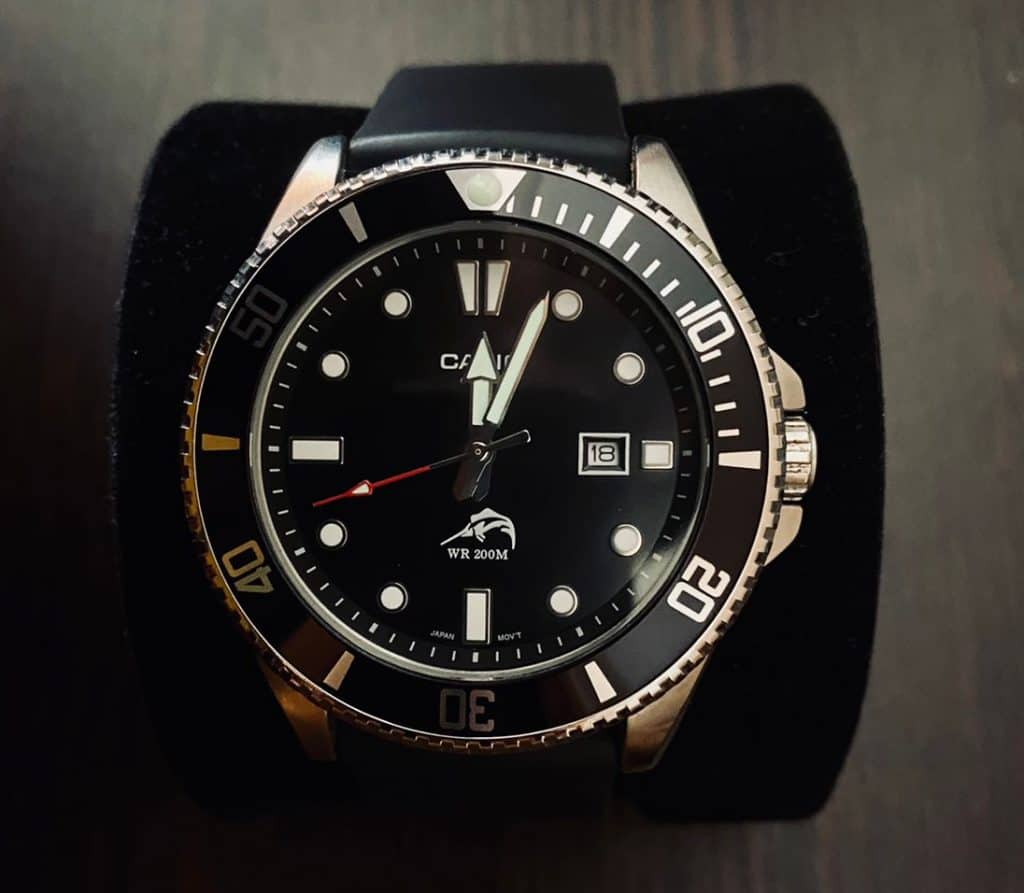 A date window is located at 3 o'clock. People sometimes complain that date windows ruin the symmetry of a watch, yet the date window is tastefully and subtly integrated into the dial.
A minute, hour, and second hand are included on the watch. The only color on this watch is the second's hand, which gives a wonderful contrast and a sporty impression. The hour hand resembles a broad arrow, while the minute hand resembles a sword. The hands have imparted glow on them.
A thin and discreet chapter ring with white seconds markers can be found around the dial's extreme outer edge. For its budget, the dial offers remarkable finishing and quality control, with well-placed markings and precise printing. The amazing appearance of this watch is one of the main reasons behind our Casio Duro Review.
Case & Lugs
The casing of the Casio MDV106-1A Duro is made of stainless steel and features a satin-brushed finish on the lugs. The case's sides are polished, and the edges are slightly beveled and polished for a more premium appearance.
The case is 48mm from lug to lug, weighs 92 grams, and stands at 12mm in height. There's no doubt that this is a big timepiece - and it should be. At the same time, it isn't oversized to the point of being unwearable. I've discovered that owning this watch has proven to be incredibly useful. Considering the price, the case finish is quite pleasant.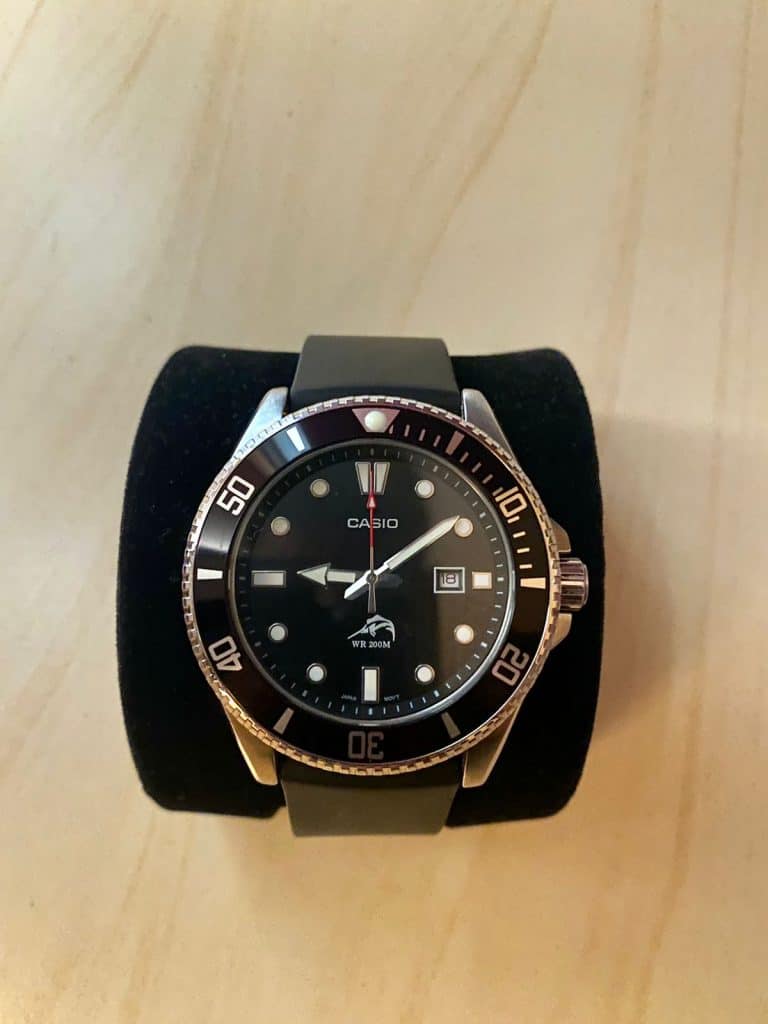 Crowns
The watch has a screw-down crown with crown guards to protect it. The crown guards complement the case's style. The crown includes a notched edge for greater grip and appearance.
What we can say about the crown is that it protrudes further than the crown guards, implying that it is not completely protected and may hit things, causing harm. It's not a major risk, but I'm not sure if larger crown guards (or even a smaller crown) would be appropriate for this watch, as they would detract from the pleasing aesthetics.
Caseback
Turning the watch over displays a sturdy case back that is screwed down. Nothing out of the ordinary, and just what we'd expect from a sporty diving tool timepiece. A marlin, on the other hand, is engraved on the case back. This mark is used by Seiko to indicate that the watch is water resistant to 200 meters.
The marlin is not only attractive, but it is also a fitting symbol for water resistance. The text" CASIO JAPAN MOV'T CASED IN CHINA DY' can be found on the case back, which is an interesting fact.
Overall, the case appears to be quite beautiful, especially considering the cost of this watch. In cheaper watches, decorated engravings on the case back are uncommon, but Casio does it extremely well here.
Crystal
A flat mineral crystal sits on top of the casing. We can't really demand a sapphire crystal in this price range. The mineral crystal does the job, but it is more prone to scratches than sapphire, so if you are a rough user, it may get scratched over time; otherwise, it will function perfectly.
Even though I've been wearing it off and on for a couple of months and been quite casual with it, I haven't managed to scratch it yet. Overall, the crystal isn't really fancy, but it gets the job done.
Related Diver Watch: Orient Mako II Review
Bezel
Now let's talk about the part that makes the Casio Duro a true dive watch. This watch has a unidirectional rotating bezel with 60-minute markers, as it is a dive watch. A black aluminum insert is used in the bezel. A triangle with a lime pip on it can be seen at 12 o'clock, allowing you to see the position of the bezel even in the dark.
The numerals stand out against the black background, creating a classic diving watch appearance.
The bezel has a notched edge for better grip. It's simple to use, but it's also secure in the sense that it's not too soft to rotate by accident. The rotating action is a little hollow, but that's to be expected with a watch this inexpensive.
Check this out if you're wondering why watches have rotating bezels.
Movement
This watch is driven by a Japanese quartz movement with an accuracy rating of +-20 seconds every month, however, keep in mind that in practice, the accuracy is typically much better.
Because it's a quartz watch, it's easy to maintain, with only a battery change required every three years. This can be done by a watchmaker or, if you have the necessary tools, at home.
We can't expect an automatic movement at this price point, but the quartz movement performs quite accurately.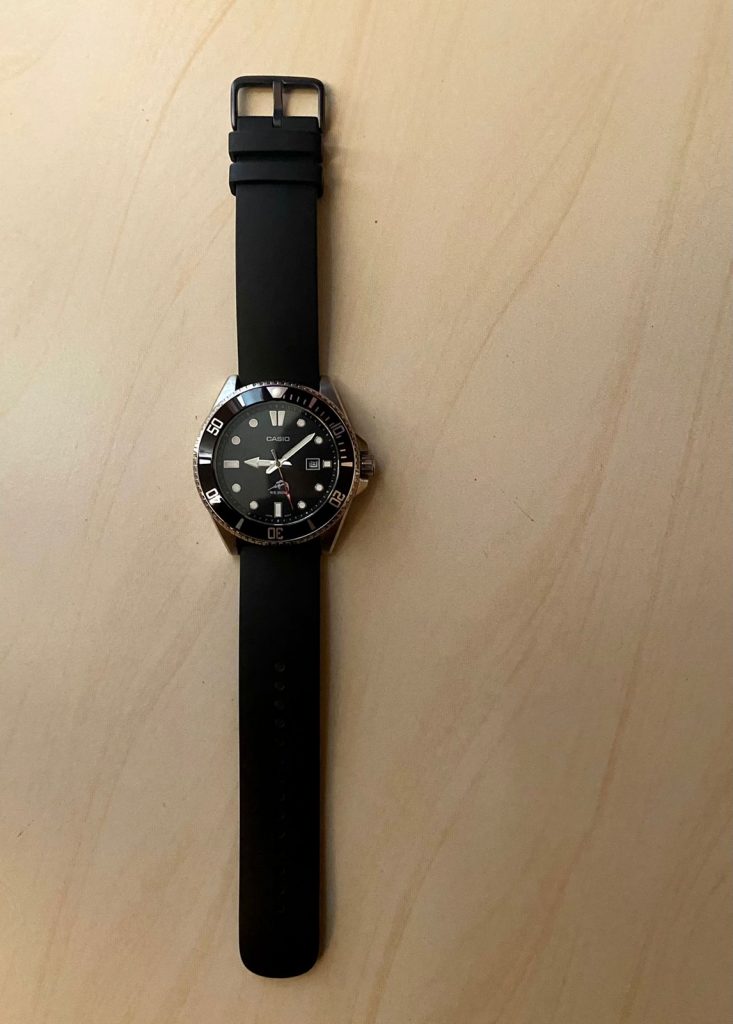 Casio Duro Stock Strap
The Casio Duro comes with a stock strap made of resin. Basically, it is the weak point of this watch. It's a bit stiff when it arrives, but that's nothing that can't be adjusted by wearing it for a few days. It's comfy enough for everyday wear, and the Casio Duro is securely strapped to your wrist thanks to a heavy-duty clasp closure.
The majority of owners promptly upgrade to NATO strap or leather strap, not only for added comfort but also for looking aesthetic. It looks great with some well-matched NATOs, especially if the stock resin strap is a bit too simple for you.
Water Resistance
Casio Duro has a 200-meter water resistance as it is a dive watch. This is a good depth rating for the price.
It is sturdy and built to last and you can go swimming and diving with it without it breaking a sweat. This is unlike many other timepieces in this price range, where you're worried the crown will fall out while using it. The MDV106-1AV is clearly in a class by itself.
Pros and Cons
Pros
Reliable quartz movement
Solid finishing
Simple but nice-looking design
affordable price
Decent water resistance rating
Cons
The date display is slightly small
Relatively weak lumination
Cheap black resin band ( can be replaced )
Frequently Asked Questions
How Long Does Casio Duro Last?
Casio Duro is quite durable and long-lasting. Its battery usually lasts approximately 3 years.
How Do I Set the Time on My Casio Duro?
In order to set the time, pull the crown to its furthest point (position 3).
Is The Casio Duro Watch Water-resistant?
Yes, the Casio Duro watch is water-resistant and can withstand water pressure up to 200 meters deep.
Does Bill Gates wear the Casio Duro?
Yes, Billionaire and co-founder of Microsoft Bill Gates has been seen wearing the Casio Duro Analog MDV106-1AV watch!
graph LR A[Casio Duro Watch] --> B[Water-Resistant Design] A --> C[Countdown Timer] A --> D[Stopwatch] A --> E[Diver] A --> F[Quartz Movement] A --> G[10-year Battery Life] A --> H[Illuminated Markers] A --> I[Sleek Design] A --> J[Highly Durable] A --> K[Highly Functional] A --> L[Excellent Value for Money]
Conclusion
If you're looking for a low-cost quality Diver analog watch then you should definitely go for the Casio Duro. You'll have a hard time finding a better watch for this price range. Despite its low price, it outperforms all entry-level and some mid-tier affordable watches with remarkable features.
The Casio MDV106-1AV has a decent level of appearance, is quite well-finished for the price, and is a great beater that won't get scratched or banged up. Though its stock strap is not satisfactory and a sapphire crystal would've been really nice, this is a durable watch at a fair price.
Using it for a year, I'm quite satisfied with it and it's definitely recommendable. We've tried to cover all the aspects in our Casio Duro Review so you can make a proper calculated decision.
So, if you're looking for a great watch that will perform similarly to the Swiss quartz divers but won't break the bank- you can definitely add it to your collection. As an added bonus, you'll get to own the same watch as Bill Gates!