We've all wished for a watch that's literally ready for anything. A watch that is not only super-tough and sturdy but also looks cool.
Fortunately, that is what the Nixon Regulus watch is made for! It is a high-performance watch developed in partnership with US Special Forces. The Regulus keeps its name as a strong contender for your next everyday timepiece, with a reverse-LED display, robust polycarbonate construction, and an overall intelligent design.
Nixon has maintained its status as a strong surf watch brand, producing extremely capable waterproof timepieces for both lives in the local lineup and on the ski lift, until now. The Regulus is no less. It is always ready for action with a natural outlook.
I've got the Regulus for 3 years in my possession. So, I'm quite intimate with it and as an experienced user, thought to review it. So, read our Nixon Regulus Review to know why you should consider adding it to your collection!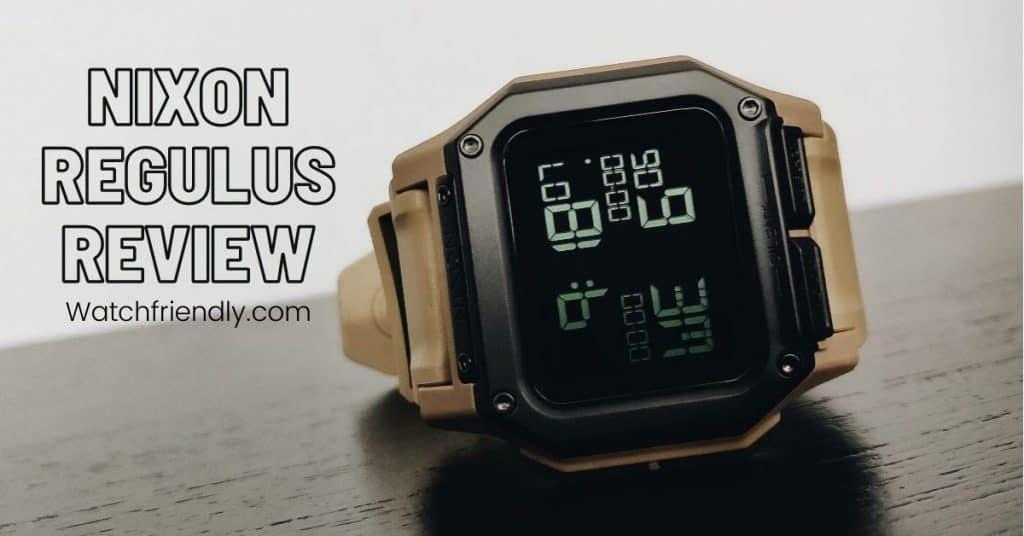 Check Price on Amazon
Nixon Regulus Review: Watch Specification
Watch Type: Digital
Case Diameter: 46 millimeters
Case Thickness: 14 millimeters
Band Material: Silicon
Band Width: 29 millimeters
Band Color: Black
Watch Dial: Custom High Contrast LCD
Dial Color: Black
Bezel Material: Resin
Weight: 3.53 Ounces
Movement: Quartz
Water Resistance: 100 Meters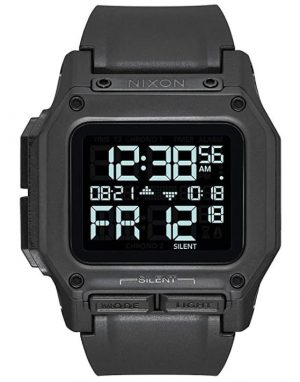 Check Price on Amazon
First Impression
The Regulus comes in a metal container with a foam lining, just like most Nixon and other mid-range fashion watches. It comes in decent packaging, but once the watch is removed, it's destined to be discarded.
The Regulus gives the appearance of being hefty and military-styled at first glance. I got the tan-colored one and it gives off a cool military vibe. Speaking of military watches, you can check out our Suunto Core Review.
Although it has a rubber/resin strap with lug attachments to the watch case - the whole thing feels strong and reliable on the wrist. It feels like whatever the situation is, the watch won't be coming off at any cost.
Buttons are large and easy to use, and the screen is clear and visible. The Regulus has a pretty decent finishing. So,  everyone should take a liking to this watch at the first glance.
Design and Look
The look of the Regulus was primarily influenced by the robust functionality of the tactical gear. Every feature and piece of equipment was picked with care to match the high standards of America's fighting elite.
Nixon always got an appealing taste for standard timepieces. The Regulus, the company's most recent square-faced model is in our opinion- one of the best looking models. 
It's simple in design, yet the rugged aspect goes well with any adventure. This robust timepiece with a digital watch face is 46mm in diameter, which we thought to be sufficient in terms of display and user experience without being unduly garish or bulky.
In addition, considering the thicker-than-average case held in place by robust stainless-steel screws, the watch was surprisingly lightweight for its size.
Sand, gunmetal, and black are the three colors available for the Regulus. All are quite appealing and eye-catching.
However, it suits perfectly beneath looser-fitting long sleeves and sweatshirts – which is good since you're unlikely to be wearing this colorway to any boardroom meetings.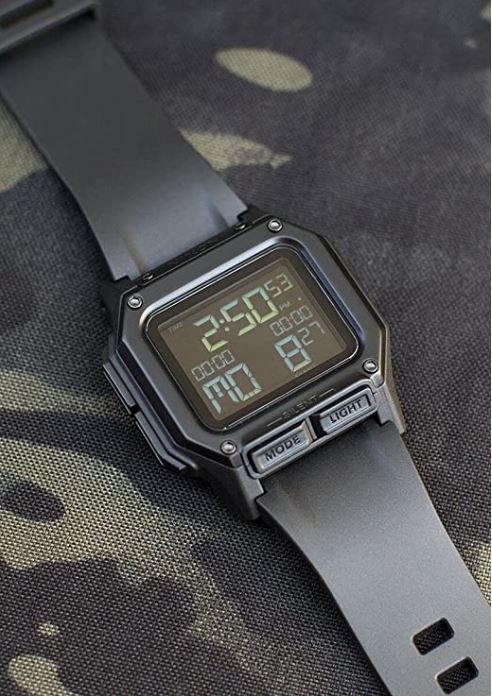 Check Price on Amazon
Watch Band
The Nixon regulus comes with a stainless steel buckle accompanied by a stainless steel screw bar, 29mm to 24mm tapered custom injection molded free-swing TPU 80 band with water flow texture on the bottom side, and a unique Nixon patented locking looper. Each Multicam watch band is one-of-a-kind and handcrafted from a pattern.
Related Read: Nixon Time Teller Review
Watch Case
The watch case is a 46mm custom injection molded TR90 casing with polycarbonate pushers at 6 and 9 o'clock. In addition, it has a toughened mineral crystal, stainless steel bezel, solid stainless-steel screw-on case back, and screw pin lugs.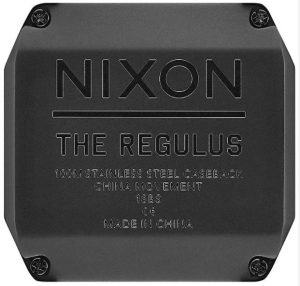 Durability
The Regulus has a shock-absorbing shell thanks to Poron foam padding between the brain and the case. For ultra-robust shock absorption and endurance, a custom digital LCD module is wrapped in a protective Poron housing. It really is a damn sturdy watch.
Its water-resistant pushers allow you to access information underwater, while a five-year battery lifespan allows you to go on any adventure with confidence.
The Regulus is a genuine companion for sportsmen and outdoor enthusiasts. It's built with hallmark Nixon craftsmanship and filled with tactical thought. It's one of the best watches for hunting as well.
Given its longevity, u can expect to keep it for a couple of decades of adventure!
Special Features
Our main influence behind doing the Nixon Regulus Review is the special features it offers, all of which are controlled by four buttons.
Firstly, there is the adjustable backlight. It is a unique feature that makes the negative display (white digits on a black background) easier to read -even in low-light conditions. There are three levels of illumination, which can be readily adjusted with the light button, with the highest setting providing excellent illumination of the display.
The other standout feature is the dual chronograph timers with 1/100 second resolution visible from all mode screens. Moreover, dual time, time of day (12 or 24 hours), day/date, auto calendar until 2099, countdown timer, three independent alarms, adjustable LED backlight, and silent mode can be found in this multifunctional watch.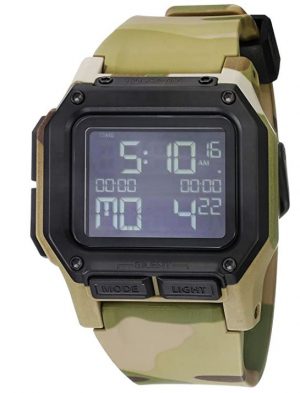 Check Price on Amazon
Pros & Cons
There is nothing unmixed in this world. It goes for the Nixon Regulus as well. So, we'll be upholding some notable pros and cons.
Pros
Super durable structure
Simplistic design
Affordable price
Easy to read accurate time in the day and at night as well 
Cons
No way to change the straps without compromising the appearance.
Non field replaceable battery
If you'd prefer a watch that doesn't require any batter at all, check out our review of the Orient Star Classic.
Frequently Asked Questions
Here are some common questions that you might have regarding this topic.
Is Nixon Regulus Too Big?
It's just the proper amount of hefty and modest at 46 mm. It doesn't feel too big on me, and I don't have a very big wrist. It's also remarkably light for its toughness, weighing in at just under 3 ounces.
Is The Nixon Regulus Waterproof?
The Regulus has a water resistance of 100 meters. The Regulus was designed to make missions easier than before.
Does Nixon Regulus Have Tide?
Although the Regulus is a digital watch, it lacks tide features.
Are Nixon Watches Made in China?
The majority of people believe Nixon watches have Chinese-made casings. Nixon promotes the notion that its watches use Swiss quartz movements, despite suspicions that the quartz is made in the APAC region. After then, the watches are most likely assembled in Switzerland.
What Movement Does Nixon Watches Use?
Nixon watches are powered by MIYOTA quartz movement and are often regarded as the best in their class. Citizen Watch Company's movement section is also branded as MIYOTA.
The 51-30 (one of Nixon's most popular watches) employs a specially made Swiss Quartz movement, whereas other of Nixon's higher-end quartz movement watches use ISA and Ronda Swiss movements.
How to Claim Warranty for Nixon Watches?
If you buy Nixon watches from its official page or any other authorized Nixon dealer, then you will get two years of limited warranty in defects in materials and craftsmanship. Though warranty does not cover normal wear and tear, batteries, crystal, watch case, strap, loss, or theft.
Most importantly, to claim the warranty, make sure to save your receipt as proof of purchase.
Check Price on Amazon
Final Words
The Nixon Regulus is a macho, military-style digital field watch with hardcore engineered guts and lofty ambitions. A few crucial design and style quirks, however, keep it from becoming a permanent fixture in either my everyday streetwear cabinet or my remote field use bag. The black one can overcome this issue.
The main nuisance of this watch would be the non-field replaceable battery. If the battery field could be replaceable or had a solar charging system, this watch would have been way too perfect and the best choice out there for me or any outdoor enthusiasts.
Nevertheless, its large easy-to-read display, adjustable lighting, and simple buttons and controls are definitely some salient features of this watch.
Considering all things, go ahead and make the right decision for yourself. Hope this Nixon Regulus review helped you to find the right one for you! Do share your pictures if you end up buying one!