When we started our journey as a watch blog, we decided to review 80% of the Timex watches out there. While they have tons of amazing models with unique features, we tend to cover them all. Therefore, we have come up with Timex Fairfield Chronograph Review, yet another Timex timepiece! 
The Timex Fairfield Chronograph is a stylish and versatile timepiece that is perfect for casual and formal occasions. This watch features a timeless design and high-quality construction, making it an excellent investment for anyone looking for a reliable and stylish watch.
Specifications
Our Timex Reviews: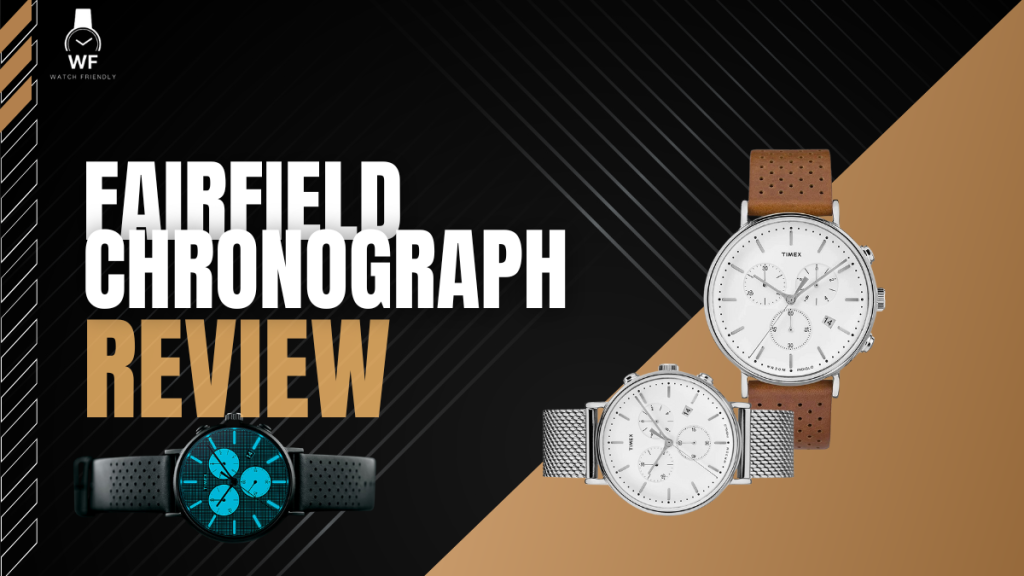 Timex Fairfield Chronograph Review: Our Perspective
Timex is renowned for making great value-for-price watches. However, they have really outdone themselves with the Fairfield chronograph. 
In this Timex Fairfield Chronograph review, we will take a closer look at its features, specs, and overall performance to help you make an informed decision. Let's take a glance at the specs first. 
Case Width: 41mm
Strap and Lug Width: 20 mm
Case Material: Brass
Case thickness: 11.5 mm
Strap Color: Multiple variants
Buckle/Clasp: Both options available
Shape: Round
Case Size: Full Size
Watch Crystal: Scratch-Resistant Mineral Crystal
Dial Color: Usually white, comes in different colors as well
Dial Markings: Minimalistic Full Markers 
Watch Movement: Quartz Movement
In addition, The Timex Fairfield chronograph comes with some sleek features including: 
Chronograph with 1/20th second marker
Indiglo Light-up feature
Date window at 4'o clock position
The Case: 41 mm
The Timex Fairfield Chronograph features a 41mm case, making it the perfect size for most wrist sizes, especially large ones. 
The watch also features a scratch-resistant mineral crystal lens, ensuring that the face remains looking good even after prolonged use.
The case is made from high-quality Brass steel, making it durable and resistant to rust and corrosion. 
The watch also features a solid engraved case back, providing additional protection for the movement inside. The case is designed with a mix of brushed and polished finishes, giving it a stylish and sophisticated look. 
Dial: Minimalistic with Full Markers
The dial of the Timex Fairfield Chronograph is easy to read and features bold, clear markings. It is available in a variety of colors, including black, white, and silver, making it easy to find one that matches your personal style. The watch also features a date display, adding an extra level of functionality to the timepiece.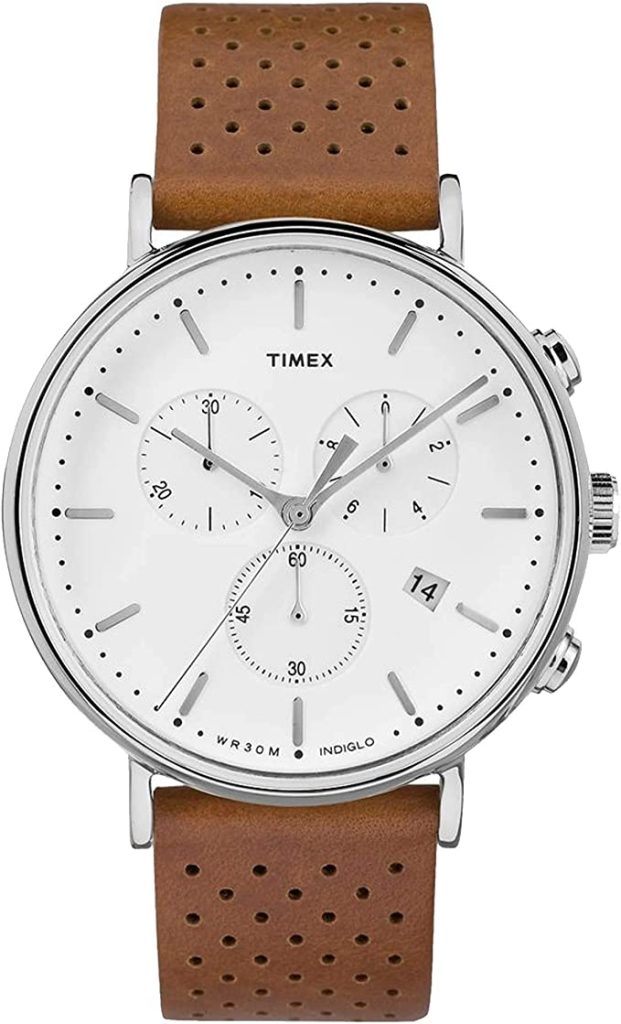 If you prefer a more minimalistic version with the chronograph feature, check out our Timex Waterbury Classic Review.
Movement: Quartz
The Timex Fairfield Chronograph is powered by a quartz movement, ensuring that it keeps accurate time even after years of use. The watch's accuracy is approximately 20 seconds in a month. 
This movement is reliable and low maintenance, making it a great choice for those who don't want to worry about winding their watch regularly.
Chronograph: How does it work? 
In case you didn't know, A chronograph is a type of watch that features a stopwatch function in addition to its normal timekeeping capabilities. 
The Timex Fairfield Chronograph has two or three sub-dials that display elapsed time, which can be started and stopped using the chronograph buttons on the side of the watch case. 
The main dial displays the normal timekeeping function, while the sub-dials display the following functions: 
Top left: elapsed time in minutes
Top Right: 1/20th of a second 
Middle Down: works as the second hand for the timekeeping function.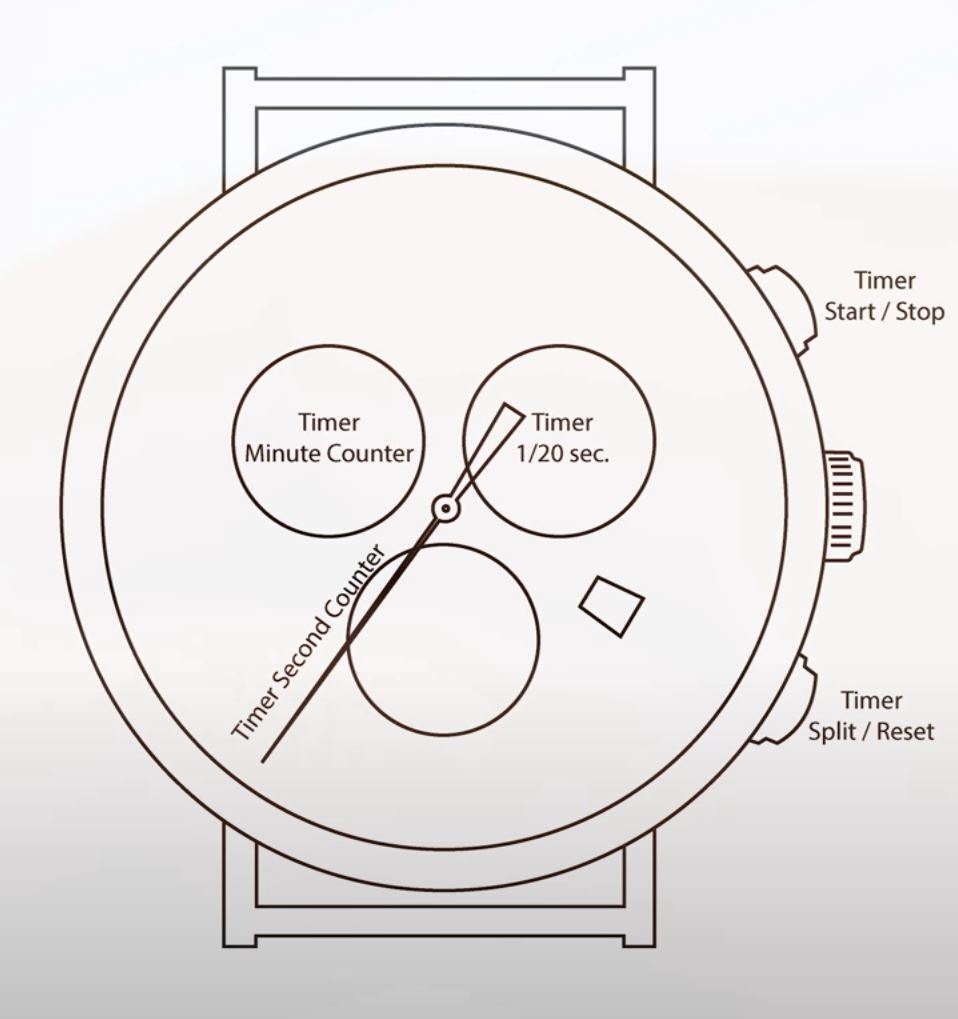 An interesting fact about the Timex Fairfield is that the large second-hand works as the chronograph timer. When you reset the chronograph, it dials back to the center. 
To use the chronograph, you simply press the start/stop button to begin timing an event and press it again to stop timing. The elapsed time can then be read from the sub-dials. The reset button, also located on the side of the watch case, is used to clear the elapsed time from the sub-dials and start over. 
The Chronograph chronograph function is a convenient and useful tool for timing events, whether it's for sport or everyday use. 
Strap
The strap of the Timex Fairfield Chronograph is made from high-quality leather, providing a comfortable and secure fit. It features a perforated leather strap that is available in a variety of colors, allowing you to choose one that matches your style. The buckle is made from stainless steel, adding to the overall durability of the watch.
There's also a stainless steel version that comes with steel straps and clasp closure.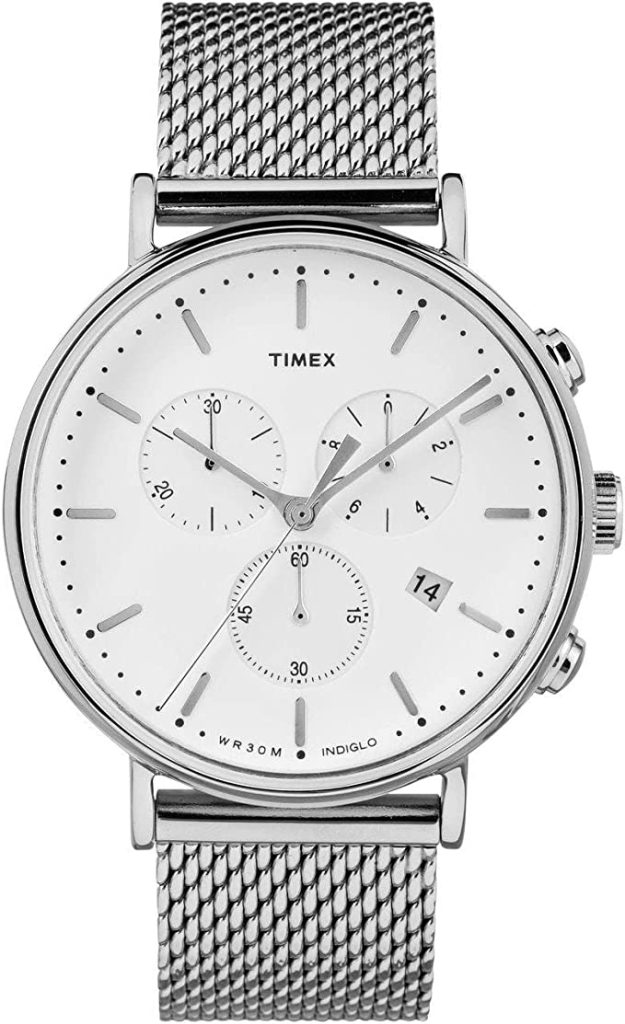 Pros & cons
Pros
Stylish yet simple design
Accurate timekeeping
Easy-to-read dial with Indiglo Illumination
Comfortable strap options 
Cons
Not suitable for diving or other water-based activities
The date window cannot be changed manually. It has to be changed through the hour hand which is pretty ridiculous and takes an enormous amount of time. 
Some users experienced the chronograph feature getting offset from the center while resetting. 
Different Variant: Timex Fairfield Supernova 
The Timex Fairfield Chrono Supernova™ watch showcases a modern minimalist style, with its cutting-edge laser-cut perforated dial and distinctive INDIGLO® display while still retaining a simple design. 
This latest addition to the Fairfield collection is crafted from metal and shaped by light, featuring a silver-tone case, a silver-tone dial, and a blue leather strap.
The Supernova variant features all the similarities of a generic fairfield chronograph. However, its unique dial that portrays "contemporary minimalism" makes it a great choice for people looking for aesthetics along with functionality. 
Related Read: Fossil Minimalist Watch Review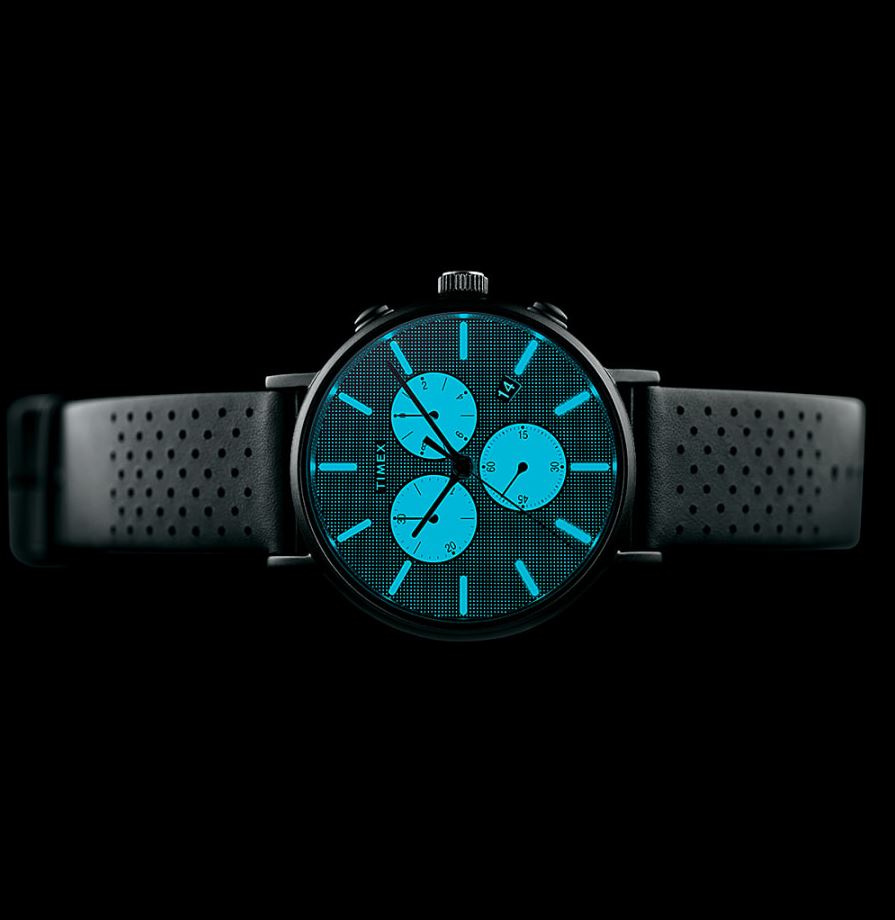 FAQs
Is the Timex Fairfield Chronograph water-resistant?
A: Yes, It is water-resistant up to 30 meters, allowing you to wear it in all weather conditions. However, we wouldn't recommend going swimming with it. 
What is the leather strap made from?
A: The strap of the Timex Fairfield Chronograph is made from high-quality original leather.
Is quartz movement a good movement?
A: Yes, the Quartz movement is a pretty good movement that is accurate and long-lasting. There are certainly better movements out there. However, considering the price range - quartz is the best option. 
How do I turn on the Indiglo Light? 
A: Just like all Timex models, just push the crown toward the case and the dial will light up!
Final Words
The Timex Fairfield Chronograph is an amazing choice for the price point. Its durable construction, accurate timekeeping, and comfortable leather strap make it a great choice for anyone looking for a reliable watch. Whether you're in need of a new timepiece for everyday wear or a special occasion, the Timex Fairfield Chronograph is a great option to consider.