The number of accessories available to men is limited. The one that gives men the ability to express themselves and their personality is a watch. Watches are fashion statements that describe your personal taste.
And let's face it, they up your fashion game by a mile!
Everyone has their preferences about a watch. But if you like anything with a retro design and futuristic vibe, you will absolutely love the Bulova Computron watch. It's an LED watch with a 1970s feel. The Bulova Computron is unlike any other timepiece in terms of appearance and style.
The moment I looked at this watch first time, it took my interest. Read through our comprehensive Bulova Computron Review to know everything about this watch and you'll see why it can be a good idea to add it to your collection!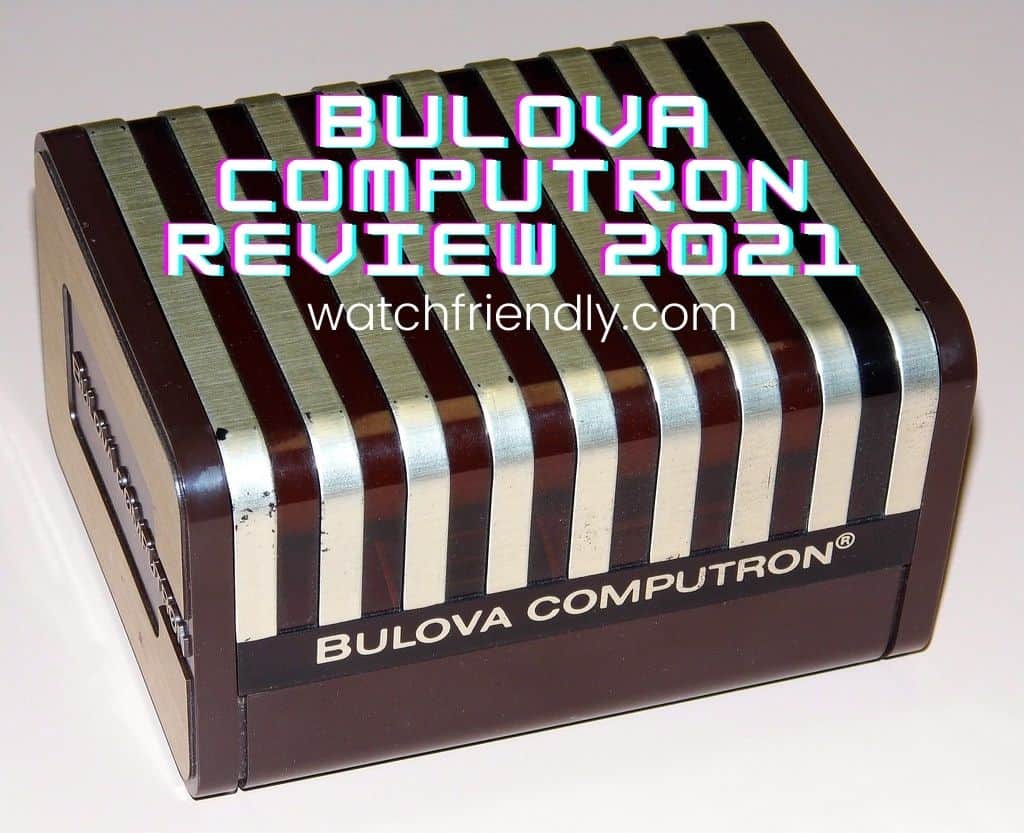 Bulova Computron Review: Specifications and Main Features
Before everything, you should know the specifications and the main features of the Bulova Computron watch so that you know what you can expect from this watch and also you can get a basic idea of this watch.
Main Features
On-demand display
Has a coin-operated battery hatch.
Water-resistant depth of 30 Meters or about 99 feet.
Specifications
Display Type: Digital
Dial Color: Red and Blue
Dial Numbers: Nebulous
Crystal/Lens: Mineral Crystal
Clasp Type: Fold-over-clasp-with-safety
Case Diameter: 31 mm
Case Material: Stainless Steel
Case Thickness: 8 mm
Case Color: Black, Gold, Silver
Case Shape: Square
Bezel Material: Stainless Steel
Band Material: Rubber and Stainless Steel
Band Color: Black, Gold and, Silver
Band Width: 7 mm
Movement: Quartz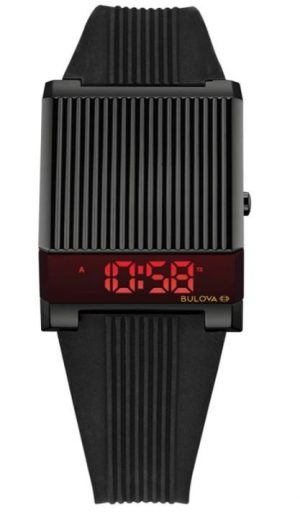 Check Price on Amazon
The Case and Crystal
The casing of Bulova Computron is trapezoidal in shape, meaning it is taller than it is wide so you'll have to think about dimensions differently than usual. It measures 40mm from top to bottom and is 31mm broad, including the little pusher that is nearly flat along with the case. Because of the odd shape and design of the case, the numbers are a bit hazy, yet the proportions are quite ideal.
Shallow grooves on the top of the Bulova Computron adds a unique style to a rather plain case design. To break up the vertical slabs on the sides, a recessed button on the left and an exposed button on the right can be used. I would classify this watch as a medium-sized watch with a height of only 13.8mm.
The crystal is made of mineral crystal, which is scratch-resistant yet prone to glare. However, glare is less of an issue on a brilliantly lighted watch. The backside is short, yet it has a sharp angle to the top and the front part. Moreover, there is a blue or red-tinted mineral crystal taking up most of the space and curving upwards.
However, this case style isn't for everyone. Some may describe it as odd or uninteresting, which is a valid assessment if you're used to the typical round classic design. Due to its modest size, the rectangular design is surprisingly comfortable on the wrist.
On-Demand Digital Display
Because of the retro design, this watch has an angled display. A red LED display is available in two of the three variations of this watch. And the other variant has a blue display. Unlike other digital watches that use a low-power liquid crystal display, this bright display uses more battery power if left on all the time. That's why the time isn't visible all the time on this watch.
To see the time, you'll just have to push the crown button on the right side of the case which will activate the LED screen and show the time for about 5 seconds. But the Computron's single button serves many more functions. You can cycle through a time, day/date, and second-time zone by pressing the button in that order. The dual time zone feature can be pretty handy, especially for travelers. If you're looking for a cool ABC watch, check out this Suunto Core Review.
Some might find this on-demand screen display feature a bit annoying to use. Because to know the time, you'll have to use your both hands. You can't know the time at a glance so it will waste some of your time.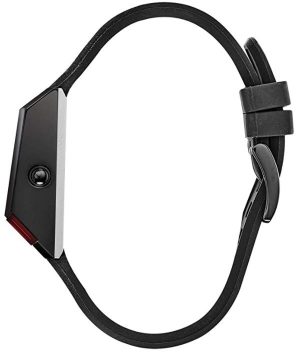 Check Price on Amazon
The Rubber and Steel Strap
Both silver and gold variants of this watch have stainless steel bracelets. It has a design that is similar to an Oyster bracelet with a few changes. On the other hand, the black case version comes with a black integrated silicon rubber strap. The rubber strap has a grooved design running the length of it, similar to the case top, which adds a little bit of style to the whole watch.
The strap has a large taper from the case to the ends, measuring 25mm at the case and 16mm at the ends. The strap would completely overwhelm the digital watch and detract from the overall appearance if it didn't have this degree of taper.
By using rubber instead of steel, you can have a comfortable wearing experience because the rubber is quite soft and supple to the touch. The price was reduced by using rubber instead of steel straps.
Related Read: Types of Watch Straps
Case Back Opening Feature
Changing the battery of quartz watches tends to be a difficult task. Some case backs appear to be designed to be opened exclusively by professional watchmakers. Luckily, Bulova is determined to make things as simple as possible for you.
The recess on the rear of the case lets you open the battery cover with a penny and change the battery on your own in this digital timepiece. This isn't restricted to the use of only coins. To pry open the watch's case back, you can use anything that fits in the recess. This battery hatch feature can save you a lot of time.
However, if you don't want to touch anything inside the watch for fear of ruining it, a skilled watchmaker is still a viable option.
The Quartz Movement
The most important aspect of a timepiece is its movement. Bulova Computron uses quartz movement that has two-year battery life. It has both advantages and disadvantages. Similar to other quartz-powered timepieces, the timekeeping of this watch is amazingly accurate than the typical mechanical watch. This is the benefit you can get from this movement.
The drawback is - the life of the quartz crystals is limited by their durability, which is usually rather high. Even with a brand new battery, the watch will stop keeping accurate time after the crystals have reached the end of their lifespan.
Related Read: Orient Star Classic Review
Design variants
This affordable timepiece has three available designs. Every variant has its own personality. we've gone ahead and described all the variations of this watch so that you can choose which one will be the best option for you. The design variants are one of the catalysts for this Bulova Computron Review.
Gold Variant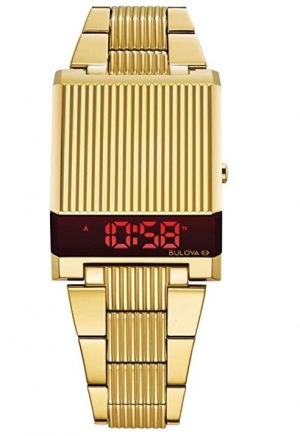 Check Price on Amazon
The gold version is the most retro-looking of them all. The way the yellowish gold case contrasts with the dark red numerals on the new LED display has a nostalgic feel to it. The colorway of this watch is vibrant and the futuristic case also adds to the effect. As a result, if you wear this watch, it will definitely be the first thing people notice.
Silver Stainless Steel Version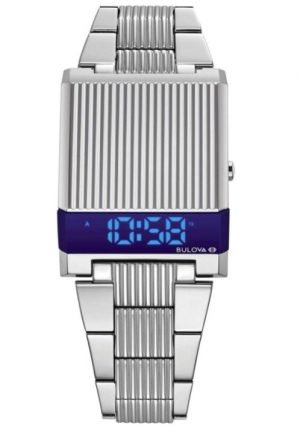 Check Price on Amazon
The chrome variant has a blue LED display rather than red. The coolness of the blue contrasts with the body's shining chrome. It may easily be a daily watch for someone looking for something different. If you're looking for something to attract people's attention, this chrome or silver variation of Bulova Computron is worth considering.
Black Variant
As you've already seen, the black version of this watch comes with a comfortable black rubber strap, unlike the gold and silver variant which had a steel bracelet. The LED screen of this version is the same red as the gold one. It has a sci-fi robotic vibe. For me, the black one takes the cake out of all three variants.
Pros and Cons
Pros:
Precise Timekeeping
Case back can be opened easily
Additional time zone capability
Cons:
The unique design is not for everyone
The on-demand display doesn't always show the time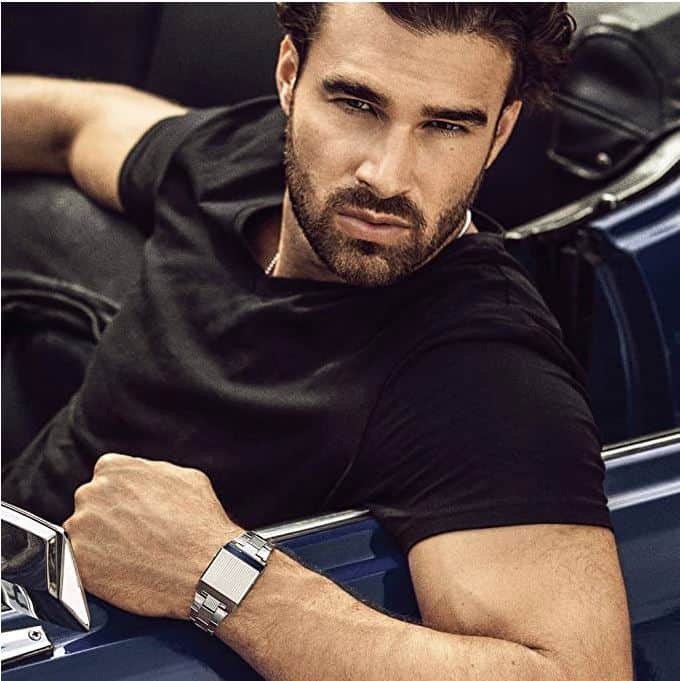 Related Read: Best Digital Watches of 2022
Frequently Asked Questions
Can You Adjust Stainless Steel Strap Yourself?
Yes! Bulova watch's stainless steel straps are adjustable and you can adjust it on your own. If your wrist is small, you'll just need to remove some links to reduce the band size. With a few simple tools, you can customize your own fit at home.
Does the Computron watch feel heavy on your Wrist?
Yes. You will feel some weight on your wrist as the watch is roughly 80g in weight. But if you wear it daily, I'm sure you will get used to it. If you aren't sure about your wrist size, our watch size guide can come in handy!
Check out this video of Bulova Computron Review if you wish to learn more.
Check Price on Amazon
Conclusion
The Bulova Computron is a unique watch in its own style. Because of the retro-shaped case and digital LED display, you get a futuristic vibe from this watch. Although everyone doesn't like the unique shape that's acceptable! Everyone has their own tastes. This watch also has many features to make life easier for you.
The case back opening feature lets you change the battery yourself so that you don't have to go anywhere to change. Also, the on-demand display feature prevents unnecessary battery drain. However, you can't see the time instantly because of this feature. You have to use the other hand to press the button on the side to see it.
We hope our Bulova Computron Review helped you realize why this watch is a must for your collection. It was the first-ever made LED watch that was released in 1976. We think this iconic and nostalgic timepiece is still worth buying in 2022.