Watches, as elegant as they are, serve more than telling the time. They are majestic fashion accessories stapled to modern men. A luxurious watch can show off your fancy predilections and give your attire a touch of class. Needless to say, it can become the single thing that turns heads as you enter the room.
And speaking of admirable wristwatches, Nixon offers an appealing line of men's and women's watches you most definitely should give a look. Since its journey from 1997, the brand has proudly made its way to stand-alone stores in many countries worldwide.
Exploring their rich collection of timepieces, we have settled on the Nixon Time Teller for a review. Today we'll be discussing all the little details that made the Nixon Time Teller catch our eyes.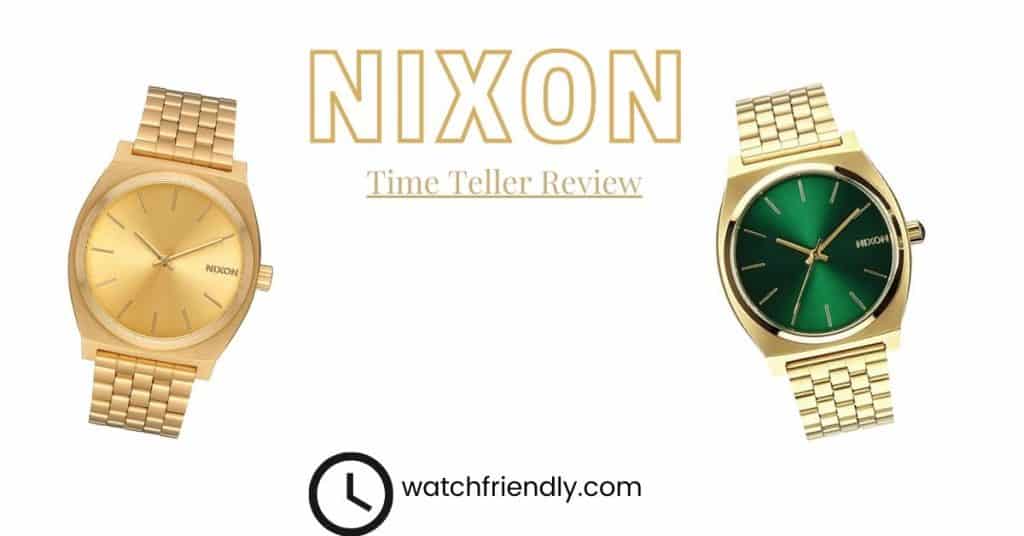 Nixon Time Teller Review: Specifications
Watch type: Analog
Movement: Three-hand Miyota Japanese quartz movement.
Dial: Handmade molded hands and affixed indexes.
Dial Color: Multiple variants (our favorite is the cobalt blue and green)
Glass Type: Toughened mineral crystal
Case Diameter: 37 mm (total 45mm)
Case Material: Custom solid stainless steel case with triple gasket stainless steel crown, stainless steel screw-down case back, and spring pin lugs.
Band: Custom 5 link stainless steel jewelry style bracelet with adjustable stainless steel locking clasp and 19.5-18 mm tapering links. (Leather Bands available as well)
Bezel: Sturdy stainless steel fixed bezel
Weight: 3.2 Ounces
Water Resistance Rating: 100 meters or 330 feet
Warranty: 2 years limited warranty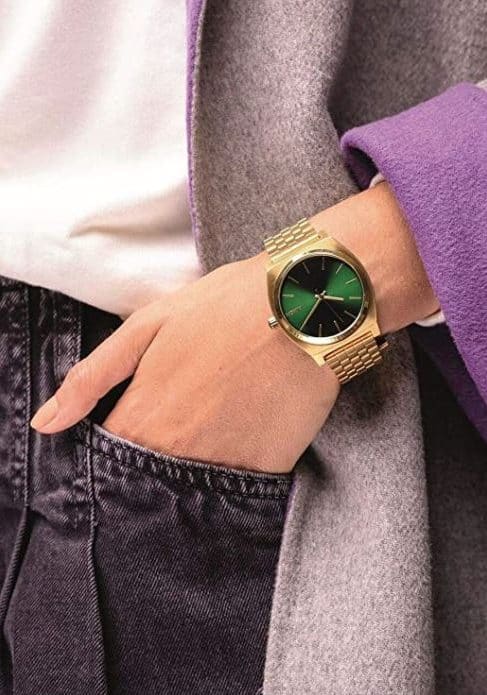 Check Price on Amazon
Nixon Men's Time Teller at A Glance
The watch really gives off a gorgeous and classy vibe to catch anyone's eye. The simplistic design is the ideal canvas for expressing your personal style.
It feels fluffy, lighter, casual, and to be very honest, wearing it making u feel really cool. It has a vintage vibe about it, but it's still trendy and stylish.
It also fits in any average-sized wrist without overpowering it. It's suited for both formal occasions and casual get-togethers. You can not only wear it with a great shirt and denim jeans, but you can also flaunt it as business formal wear.
Design & Attractions
The Time Teller was designed to feature a classic style with a modern twist, modeled after timepieces that were passed down from generation to generation.
Since wristwatches with intricate faces have been flooding the market for a while now, you can be the new trendsetter who brings back the classic feel of an analog timepiece. While there's no doubt that the NIXON - Time Teller nailed the color combination, its flat-edged, matte black bezel goes hand in hand with contemporary style. The shiny golden crown pops against the black buckle.
Another reason why we think this elegant timepiece is going to be a great buy for you is that the black watch face effortlessly matches any strap style and material. That's right- you can replace the matte buckle with a leather one for a more casual look or get a golden buckle for an edgy ensemble.
We couldn't have enough of how subtly the Nixon Time Teller blended the most popular fashion trends in the entirety of a wristwatch. It has the right amount of chic without being too elaborate.
Related Read: Citizen Promaster Diver Review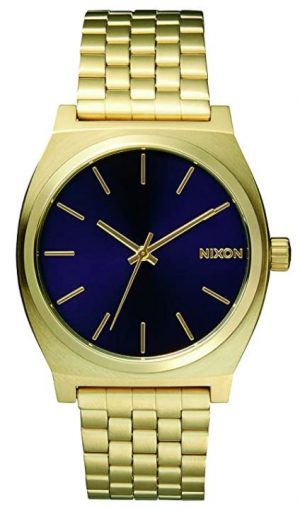 Check Price on Amazon
Dial
Other than its impressive versatility in terms of how you want to flaunt your luxurious timepiece, we were also impressed by its straightforward dial- which also comes in lots of beautiful variants. The simple matte dial is a breath of fresh air, and we loved its black and gold color timeless simplicity.
There is no minute track on this, and only the logo and hour markers are visible. The logo and indices are applied, but they are more delicate than you might assume because they lay flat.
This results in a minimalist design that I'm sure would appeal to younger generations, as the dial, aside from the appealing sunburst effect, is not that remarkable on a macro level. The hour and minute hands are a little shabby, and there is no luminosity, which is a shame because this watch might be used as a daily watch.
Watch Case
The Nixon Time Teller flaunts a 45 mm watch case. Although it's of the perfect size for men's wrists, women who like unisex watches might find it a bit big. The case thickness being 8.8 mm, our Nixon Time Teller falls on the chunky side of wristwatches. But we thought that the slightly thicker case contributes to its analog name.
The majority part of the case is brushed matte, with a basic glossy bezel surrounding the dial and a square overall simple design that fits the retro theme perfectly.
The level of water resistance is provided by the notched case-back, which is more than enough for everyday use and should eliminate water damage as a concern, even while swimming. Even the case polishing is good, with beveled edges and a striking logo on the crown that appears to be enclosed in some kind of domed glass or acrylic.
Watch Glass
A simple yet sturdy mineral glass covers the dial, which is the standard material used in most wristwatches at this price. If you accidentally scuff the watch against something, you should expect some limited scratch prevention.
The bezel also extends slightly beyond the crystal's borders, protecting it from being cut and damaged from the side. I'm not sure if this was done on purpose or not, but it's handy regardless.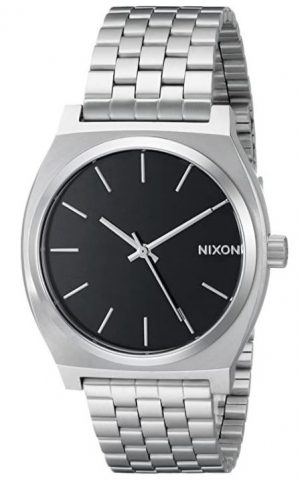 Check Price on Amazon
Durability
We loved the fact that this watch not only focused on the looks but also took durability seriously. For example, its stainless-steel bezel will withstand regular wear and tear- helping you stay comfortable without worrying about your exquisite timepiece.
Besides, the mineral crystal is professionally heat-treated to resist scratches. You can't expect a sapphire crystal in this price range, but the mineral one looks no less appealing than that. In fact, it is far more durable than acrylic crystals. Also, the stationary bezel function agrees with Nixon's minimalistic approach in this specific wristwatch.
Movement
So, how accurate is the Time Teller when it comes to telling time?
To be honest, it is quite accurate as it has Miyota quartz Japanese movements. Frankly speaking, I don't actually like this because the second hand appears to be more variable than with some alternative quartz movement.
Luckily, the lack of a minute track prevents the aggravating sight of the hand hitting and then missing the markers, which is all too common with these cheap movements. When held horizontally, this unit hits the remaining indices, but when held vertically, it frequently misses.
Pros & Cons
Pros
If we are to name two things that make the Nixon Time Teller stand out, they would be its expensive look and outstanding permanence. Is Nixon a brand for classy commoners? You're probably not wrong. But they have some transcendent wristwatches that complement your keen sense of fashion at an affordable price point.
Moving on to the details, its monochrome stationary bezel is a welcoming escape from a hefty tachymeter or a rotating slide rule. On top of that, its deployment clasp is a better alternative to the pin buckle on your leather watch.
As for the primary functions, the Japanese Quartz three-hand movement saves the repetitive task of winding the watch; as you otherwise would've been occupied with before putting on a mechanical watch.
Other things we liked:
        Admirable matte black exterior
        Flat-edged bezel, proportional lugs, and crown
        Modest black dial with simple time indications
        Bracelet-style sliding buckle
        Deployment clasp with a safety lock
Cons
The Nixon Time Teller can be a lot of things depending on how well you can pair it up with your outfit, but it's certainly not a slim watch. Once you're in love with thin smartwatches, the Time Teller's whopping 8.8mm case might be a problem for you.
Besides, most watch purists will vouch for a mechanical wristwatch for its unparalleled craftsmanship and intricate artistry. If you like jumping on the bandwagon, this fact might just put you off.
Other things we noticed:
        The exclusion of minute indication marks makes it difficult to tell the exact time
        The mineral crystal is not as shiny as sapphire
        Average water resistance
Frequently Asked Questions
Find answers to some frequently asked questions from the readers of Nixon time teller review!
What Type of Watches Does Nixon Make?
The American brand Nixon makes analog, digital, automatic, and chronograph watches in various genres.  They have dive-ready, water-resistant watches as well as oversized, stainless-steel watches to fit your purpose.
Are Nixon Watches Expensive?
Since Nixon is not a luxurious watch brand, their watches don't cost as much as a Rolex or a TAG Heuer.  It's moderately a new brand with less than 25 years of expertise. Nixon can give you the feel of big-budget wristwatches, but they're honestly quite affordable.
What is the Latest Nixon Watch Collection?
Recently Nixon launched a new line of watches in collaboration with the famous heavy metal band- Metallica. It's more like a tribute to the metalheads in the form of bold watches with heavy metal themes.
What are Some Must-Have Watch Complications?
Everything that comes in addition to telling time on your wristwatch is a "complication." While a tachymeter and chronograph are likely there for a bold look, a day-date window and dual time zone function are two essential complications for regular use.
How do I make a Warranty Claim for Nixon Watches? 
Following the original purchase from nixon.com or an authorized Nixon dealer like Amazon, Nixon gives a 2-year limited warranty of defects in materials and workmanship. But normal wear and excessive wear and tear, batteries, crystal, watch case, strap, loss, or theft are not covered. All warranty claims and service requests require proof of purchase, so make sure to save your receipt!
Related Read: Victorinox Maverick Review
Final Words
It's safe to say that the Nixon Time Teller beautifully ties up all the fashion trends in reasonable pricing.  Its Quartz three-hand movement gives it a classic punch; the plainly laid-out dial satisfies the perspective of a minimalist, and finally, the bracelet-style metal strap adds a hint of contemporary fashion to your everyday look.
We hope that our Nixon Time Teller review helped you see what an elegant men's wristwatch it truly is! Doesn't matter if you want an analog or a digital watch, the enormous collection of Nixon will have definitely have an option for you.