Watches have a unique significance in our lives. And our favourite watches hold a very special place in our hearts as well.
However, it's quite difficult to find an excellent dive watch nowadays. Most people tend to think of the Rolex Submariner and the Seiko SKX series when they think of dive watches.
But what if you want a decent, long-lasting, dependable, and attractive dive watch that gives you the same satisfaction as a dive watch while not costing tens of thousands of dollars?
Our Orient Ray II review will provide an answer to that!
The Orient Ray II could be the perfect one you've looking for! For folks who are just getting into watch collecting, the Orient Ray II is always on the short list of preferred first automatic watches.
The Orient Ray II FA002004B9 is a reasonably priced sporty dive watch that resembles what most people imagine when they think of a dive watch. It's primarily monochrome with black and white accents, steel construction, unidirectional bezel, sporty style, and good legibility.
People are coming to realize the importance of the Orient Ray II as it continues to improve. For starters, it features a better movement while maintaining the same classic appearance as its predecessor. It has also developed a reputation comparable to that of the well-known Seiko SKX007 and SKX009.
Without further do, let's go through our Orient Ray II review to find out why this watch could be worth purchasing.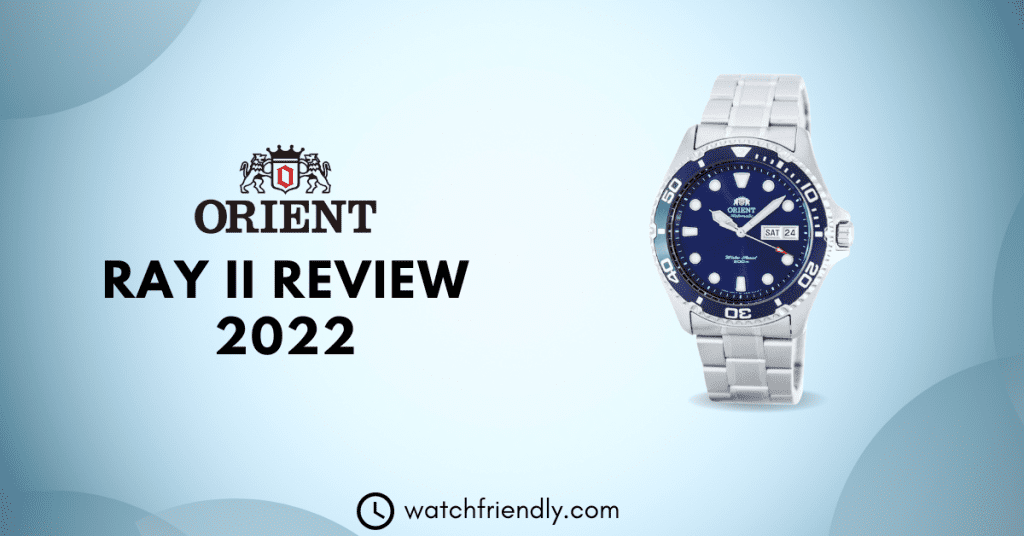 Orient Ray II Review: Watch Specifications
Diameter: 41.5 mm
Thickness: 13 mm
Lug Width: 22 mm
Case: Stainless steel case
Strap: Stainless steel bracelet
Dial: Black or blue dials
Watch Crystal: Mineral crystal
Hands: Sword shaped hands with lume
Markers: Circle index markers with lume
Bezel: Unidirectional rotating diver bezel with 120-clicks
Movement: Orient Caliber F6922 Automatic self-wind movement
Movement Features: Japanese made in-house movement, 22 Jewels, 21600 vibrations per hour or 6 beats per second, Hacking, Manual winding
Accuracy: +- 15 seconds per day
Power Reserve: 40 hours
Water Resistance: 200 m
Extra Features: Luminous hands and markers, Date display, Day display, Screw down crown, Unidirectional rotating diver bezel
Check Price on Amazon
Watch Case and Lugs
The Ray II's casing has a sporty appearance that is quite appealing to dive watch enthusiasts. Its silhouette is almost identical to that of the Submariner. The stainless-steel case is 41.5mm in diameter and 47mm from lug to lug, making it a perfect fit for any man's wrist. In my perspective, it is neither too big nor too small.
When worn, the watch appears to embrace the wrist. The downward-angled lugs ensure a secure fit and all-day comfort. However, this watch does not fit a normal diver who wears a 42mm watch. It's a little more difficult to manage because of the minor modification, but its duties remain the same. Despite its little size, the screw-down crown, which is secured by crown guards, assures the watch's 200-meter depth rating.
With a thickness of 13 mm, it's also pretty substantial. Despite this, the watch is not that light. For those who prefer a heavier watch, this will be suitable. It has a tough and sporting vibe about it.
There isn't anything to complain about the case because it is perfectly proportioned. Its brushed lugs contrast with polished sides, creating a pleasing contrast and a sense of luxury.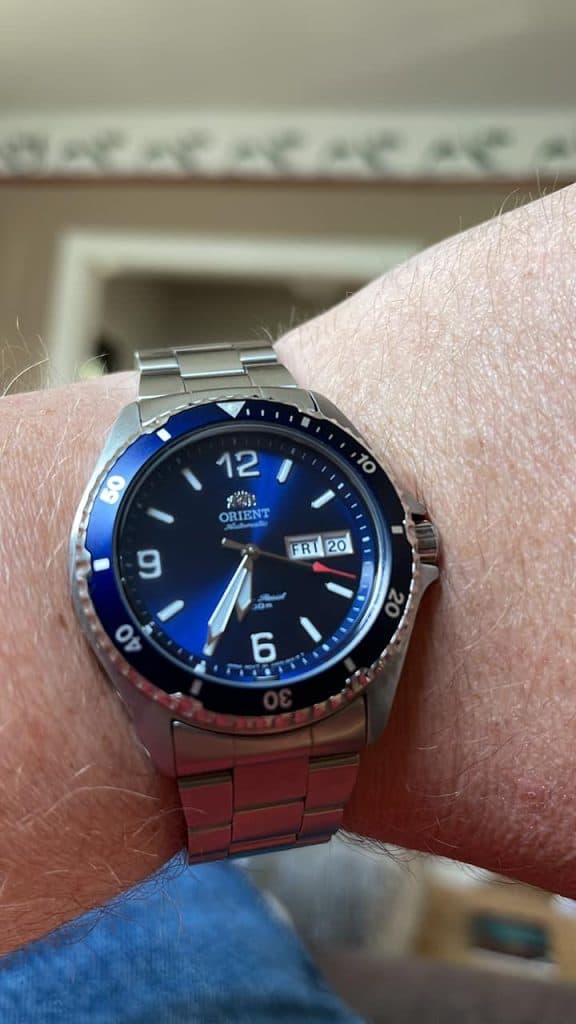 Check Price on Amazon
Related Read: Orient Star Classic Review
Bezel and Caseback
The Orient Ray II has a 120-click unidirectional rotating bezel, which is standard on any dive watch. An aluminium inlay and a luminous pip at 12 o'clock are included in the bezel. This makes it readable in low light. Even when wearing a wet suit, the coin edge of the bezel makes it easier to grab for improved operation. It's not, however, your ordinary coin-edged bezel. The notch grows bigger every ten minutes. However, because it does not protrude from the case, it can be difficult to use.
The watch's sturdy caseback has Orient's trademark dolphin logo, which is protected by a mineral crystal. It isn't an anti-reflective sapphire, but it provides adequate protection when handled with care. After so, replacing the crystal with sapphire could be too expensive, affecting the Ray II's entire price.
The case is also water resistant to 200 meters thanks to the screw-down crown and caseback. However, many people have complained about water getting into their watches simply from swimming or showering.
Dial
Oh, the DIAL! This was one of the main key factors behind writing this orient Ray II review.
The Orient Ray II is available in two different colors. To begin with, the Orient Ray II FAA02004B9 has the same popular black dial as a Rolex Submariner. Then there's the deep, dark blue Orient Ray II FAA02005D9.
Both dials have a matte finish with a hint of shine when viewed from certain angles. They also include a chapter ring to give the dial more depth and dimension. Overall, the texture of the dial is distinctive and worth noting.
Except for 3, 6, and 9 o'clock, the watch has huge applied circular markers at each five-minute marking. The markings have a polished chromed edge and a substantial quantity of luminova applied to them.
We have a day and date window with a metal frame around it at 3 o'clock. Sunday is printed in red on the day wheel, whereas the other days are printed in black. A piece of metal is also used to differentiate the day and date.
The hour and minute hands are identical to those on any other sports watch. For greater legibility, they're big and packed with lume. The tip of the second hand is triangle-shaped with a red edge for contrast, giving the clock a bit of flair.
Not to mention, most sports timepieces have traditionally had read. It's a good idea to include this color into the watch by putting it on the date window and the second hand.
The dial's prints are kept basic and to the point, with only the Orient logo and text at 12 o'clock, as well as the term 'Automatic' inscribed beneath the branding. The phrases 'Water Resist' and '200m' are located to the south of the dial.
The Orient Ray II's dial is clean and uncluttered in general. It is large and, most importantly, features a vivid green lume. The blue dial has a beauty that is almost reminiscent of the ocean, while the black dial is a timeless classic that you should have in your collection.
If you ask for our opinion, we'll definitely recommend the blue one!
Check Price on Amazon
Movement
Moving on to the movement, the Orient Ray II FA002004B9 is operated by a rotor and features an automatic mechanical movement.
It is powered by the F6922 caliber, which includes all of the features of a high-end automatic movement, including hacking seconds and manual winding. Furthermore, it's also created in-house. For the money, it's pretty excellent.
According to specs, the movement has 22 jewels and a power reserve of 40 hours. The movement is solid and reliable, which is ideal for a sporty dive watch.
Related Read: Invicta Pro Diver Review 2022
Bracelet
The Orient Ray II originated with a stainless-steel bracelet that fits comfortably between the lugs. The bands on entry-level dive watches are predicted to operate less well than those on luxury dive watches. It features a hollow end link as well as some rattle. The rattle is caused by the gaps between the bracelet's components, and it gives the bracelet a cheap feel. The 22mm hollow end links detract from the bracelet's durability.
When it comes to manufacturing, the bracelet is usually the section where manufacturers make the biggest compromises. The bracelet isn't the finest in the game, but it's about what you'd expect for the price.
The bracelet's tapers, on the other hand, make it more comfortable to wear, but they could be improved in certain respects. Because of its generic lug width, the Ray II is compatible with NATO and rubber straps. It effortlessly resolves the band issue and refocuses attention on the watch's outstanding features.
Durability
There's no doubting that Orient makes long-lasting clocks. The Ray II can keep up with your demands whether you wear it every day or on tough journeys. Given its classic sports watch design, it's also incredibly flexible. Not only can you wear it for a weekend getaway, but you can also use it for work. It can be worn with either a suit or casual clothing without issue. However, given its price, it's understandable that you'll have problems with it, such as the mineral crystal and bracelet.
It's dependable, but it's still more scratch-prone than your fancy watch. However, with decent care, this watch will undoubtedly last. In any case, you'll get a solid timepiece for half the price of a Seiko SKX or a fraction of the price of a Rolex Submariner.
As we have almost reached the final point of our Orient Ray II review, let's look at some relevant questions regarding this timepiece. If you're interested in an amazing dive watch for an even lower price, check out this Casio Duro Review.
Frequently Asked Questions
Is the Orient Ray II Mod-friendly?
The Seiko SKX is the holy grail of watch mods, as we all know. This is due to the fact that parts for the SKX are easier to get by than for other watches. Because modding an SKX is easier for many people, it is a popular choice among modders.
However, modding the Orient Ray II may not be as simple. If you want to modify your watch and are seeking a less expensive alternative to the SKX, the Ray II might not be the best option. Parts are scarce because there isn't much of a demand for modding the Ray II.
Which one is better? The original Ray or Ray II?
I think the Ray has a very distinct look unlike the Ray II, which has a traditional diver watch design. It's unmistakably distinct from the countless other automatic diver watches on the market.
But with the redesigned movement, the Ray II has an improved technical specification. Manual winding is quite advantageous and practical. For this, I'd choose the Ray II based only on its superior and more modern movement.
Plus, the prices of Ray are greater than the Ray II, which could be due to limited production or other factors. So, if you're torn between these two fantastic watches, consider the Ray II, which is both cheaper and better overall.
Check Price on Amazon
Conclusion
If you're searching for a low-cost mechanical diver that can take a beating and yet look decent, look no further. Get the Orient Ray II.
With the new F6922 movement, the new Orient Ray II has significantly improved in terms of performance. This is a watch that's pretty tempting, with a traditional diver watch appearance, 200 m water resistance, and a very inexpensive price tag for an automatic.
There are several aspects that could be improved; however, they would almost certainly result in a higher price. With that being said, it's a watch that punches well above its weight class.
So, you can definitely go for the Orient Ray II!