In the early days, Skagen focused on creating watches that were simple and functional but also had stylish and modern designs. The brand quickly gained popularity, and by the early 2000s, Skagen watches were being sold in more than 20 countries around the world.
Now Skagen has gained worldwide recognition for their award-winning designs and timeless craftsmanship. Skagen is devoted to supporting the environment and uses recyclable eco-friendly products as materials. 
While Skagen manufactures a variety of aesthetically pleasing timepieces with many functionalities, their minimalist watches have always been a fan favorite. This leads us to this post.
This Skagen Signatur Minimalist Watch Review explores a classic and elegant timepiece that boasts a minimalist design. It is a perfect choice for a minimalist watch lover. Read on to find out the amazing features of this minimalistic watch.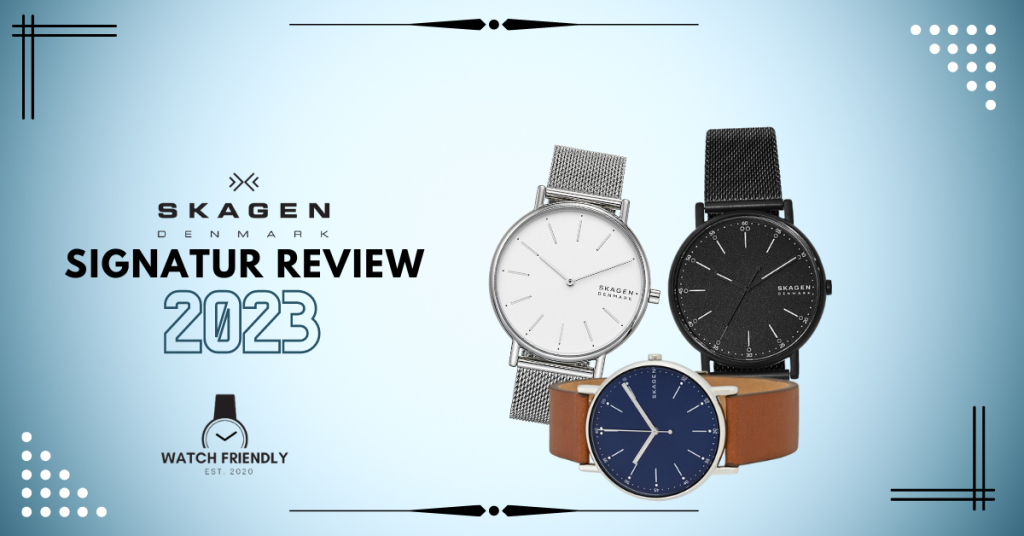 Skagen Signatur Review: Watch Specifications 
The Skagen Signatur watch has a simple yet aesthetic minimalistic design that can complement any style. Try wearing one of Skagen's watches when getting dressed for an event, and you'll experience a new level of sophistication in your refined look. The minimalistic design makes it compatible with both formal and casual wear. 
The other specifications of the watch are given below: 
Material: Stainless Steel
Color: Multiple variants
Strap: Genuine Leather with Buckle Closure/Stainless Steel
Case Width: 40 mm
Case Finish: Brushed/Polished
Watch Face: Mineral Crystal 
Dial Markings: Stick index markers or Roman numerals with outer rings
Movement: Japanese Quartz movement
Dial
The dial of the Skagen Signatur watch is clean and uncluttered, with a white or black background, depending on the model. The hours are marked with thin, silver-tone indexes and the hands are also silver-tone.
The watch features a small date window at the 3 o'clock position, which adds a touch of practicality without compromising the overall aesthetic of the dial. Additionally, there is an Outer ring marked from 1-60 making it easier to tell the time accurately.
The watch also features a sleek look and an easy-to-read dial that makes it a great choice for both casual and formal occasions.
If you're a minimalistic fan, then you'd love this Timex Waterbury Classic Review.
Case
The case of the Skagen Signatur watch is made of stainless steel and has a polished brushed finish. it has a slim profile, which gives the watch a sleek and modern look.
The case is also water-resistant up to 50 meters, making it suitable for everyday wear and light water activities. However, since it's 50 meters/5 ATM - we'd recommend not going swimming wearing it. 
The case has a diameter of 40mm making it suitable for both men and women. 
Related Read: Fossil Minimalist Watch Review
Strap Variants
Leather Strap 
The Skagen Signatur watch comes with a genuine leather strap that is comfortable to wear and adds a touch of elegance to the overall design. The belt is available in various colors, including black, brown, and cognac, making it easy to match with different styles and outfits. 
The strap is also easy to adjust so that it can be worn comfortably by people with different wrist sizes. The belt features a buckle clasp that keeps the watch securely on the wrist. 
Stainless Steel
There are other variants of the Skagen Signatur that comes with a Stainless Steel strap attached to the clasp system. There are pushpin links on the stainless steel variant, and we love the one with the blue dial on it!
Durability
The Skagen Signatur watch is a well-constructed timepiece that is built to last. The stainless steel case and the genuine leather strap are durable and resistant to wear and tear. 
The watch is also water-resistant, which makes it resistant to water splashes. Furthermore, Skagen uses recycled materials and ocean-bound plastics so they are friendly for the environment as well. 
With proper care and maintenance, the Skagen Signatur watch can last for many years. 
Skagen Signatur Review: Pros & Cons
Pros
Sleek and minimalist Aesthetic
Water-resistant
Gold Standard leather strap/Stainless Steel
Easy-to-read dial
Suitable for both men and women
Made out of Environment-friendly materials
Cons
The watch is not suitable for diving or heavy water activities
No date windows
Some users find it difficult to read the time with index markers
The watch is not powered by a mechanical movement
FAQs
What Is The Battery Life Of The Skagen Signatur Watch?
The battery life of the Skagen Signatur watch is approximately 2-3 years.
Is The Skagen Signatur Watch Suitable For Diving?
No, the Skagen Signatur watch is water-resistant up to 50 meters, but it is not suitable for diving or heavy water activities.
If you're looking for a great affordable dive watch, check out this Invicta Pro Diver Review.
Can The Leather Strap Of The Skagen Signatur Watch Be Replaced?
Yes, the leather strap of the Skagen Signatur watch can be easily replaced by yourself or a professional. It has a 20mm lug width- making it suitable for all kinds of third-party straps as well. 
Final Words
From the coastlines of Copenhagen, Denmark Skagen embodies the following 3 terms - modern, minimalist, and playful. With an appreciation towards nature and commitment to reducing virgin plastics - Skagen has made a revolutionary step and marked the name all over the world. 
The main attractions of their watches are the minimalistic award-winning design, sustainable craftsmanship, and impeccable quality. Our Skagen Signatur Minimalist watch review will help you decide to choose the best minimalistic watch for your collection.