One day I found a really old watch in a box in our storehouse. When I asked my father about it, he told me it was the Timex Easy Reader he used to wear when he was a student. It was dusty but still working!
I was really curious about the watch so I bought a new one for myself and I have been loving it so far! Therefore, I decided to work on this Timex Easy Reader review so to help you guys come to a decision.
The Timex Easy Reader is one of the most popular awesome watches because of its simplicity and its affordable price. Basically, it is really easy to read. Because of that, it is perfectly suitable even for a small child who can read an analog watch. It is similar to a schoolroom clock and I personally like this casual vibe.
Before everything, you need to know the main features and specifications of this amazing product by Timex. Let's dive into it, shall we?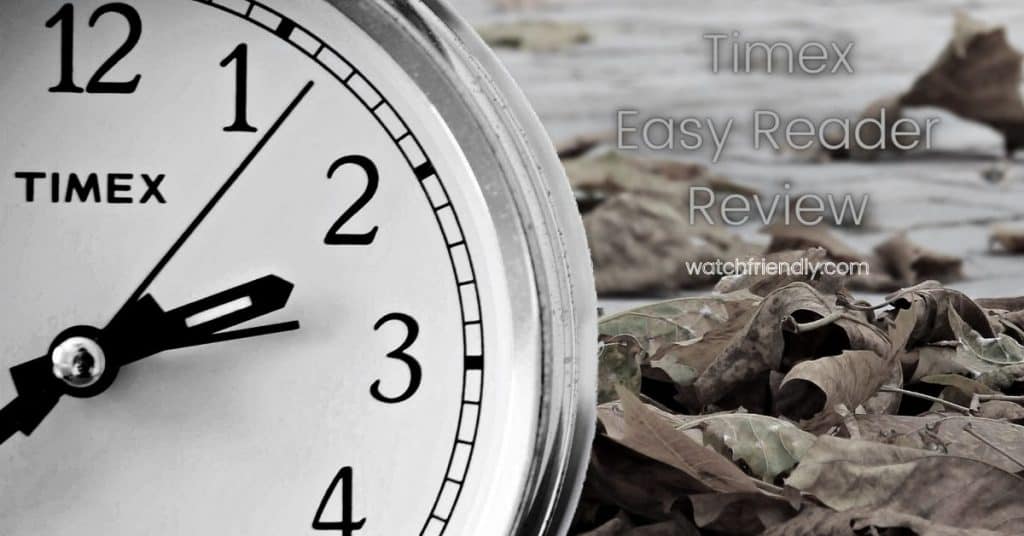 Main Features
Easy-to-read dial with day and date window
Water-resistant depth of 100feets/30meters
Genuine adjustable leather strap
10 years of battery life
Scratch-resistant mineral glass
Specifications
Display Type: Analog
Dial Color: White
Dial Numbers: Arabic Numerals
Crystal/Lens: Mineral glass
Clasp Type: Buckle
Case Diameter: 35mm
Case Material: Brass
Case Thickness: 8mm
Case Color: Silver-Tone
Case Shape: Round
Band Material: Genuine Leather
Band Color: Black
Band Length: Men's Standard
Band Width: 18mm
Movement: Quartz
Water Resistance: 100ft/30m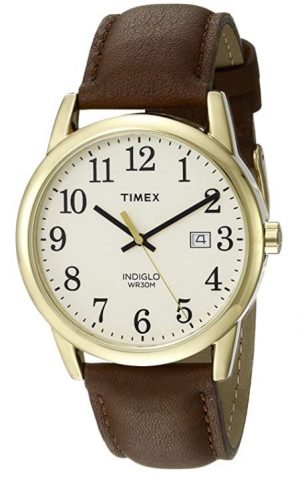 Check Price on Amazon

Timex Easy Reader Review: Detailed Explanation
Now that you know the main features & the specs of the Timex Easy Reader, we can go into more detailed information. 
The Case
In my opinion, every detail counts when it comes to a well-made watch. The Timex Easy Reader is the best example of that. Strength and durability are provided by the all-metal case and mineral glass lens.
Silver-tone 35 millimeter brass case is very light weighted. Although it is really light, it never feels fragile. And its height is only 8mm which is almost enough to fit under a cuff. As they get closer to the case, the lugs have an interior chamfer or cutaway. The brushed finish on the top of the 18mm lugs (which matches the bracelet links) differs from the polished finish on the rest of the case.
The bezel material of this watch is black brass or blue brass. The brass bezel adds a bit of style to the watch. I think the crown functionality is as good as it is supposed to be. The crown itself is quite small. Because of its price, the lens of this watch is mineral glass. Even though I found no visibility flaws after using the watch for a while.
The Easy-to-read Dial
Under the mineral glass lens, there is a dial that displays the time. The dial of the Timex Easy Reader is the typical watch layout. We can see this exact dial design in schools, stations, etc. Also, this watch has a built-in date dial. The day-date feature makes this watch more convenient. 
This easy-to-read feature of Timex put it on our list of the best hunting watches as well!
Easy-to-read numbers are balanced with a clean dial design, as the name tells us. Clean white base, large crisp black serif numbers make it really easy to read. You can also get a black dial. If a random person has this watch, you don't even have to ask the time. You can just see it for yourself even if you are far away.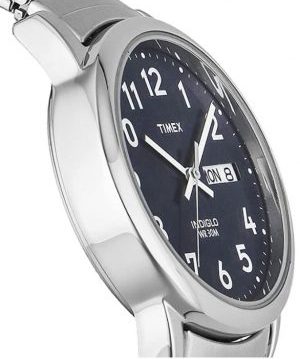 Related Read: Timex Weeekender Review
The Indiglo Backlight
One of the special features of the Timex Easy Reader is the Indiglo backlight technology. To see the time in complete darkness, you will just have to push the crown and the whole dial will light up with an eerie cool cyan blue glow.
According to several reviewers, sometimes the lighting is not perfectly even and may suffer a dimmer patch. But I am using this watch for a couple of months and I didn't face this issue. So it seemed that the chance of occurring this issue is very slight.
The Strap
The Easy Reader's affordable strap, band, and bracelet are made to be simple to use, adjustable, and comfortable. You get tool-free interchangeability and a fantastic fit on any wrist with our Fast Wrap and quick-release alternatives.
The 18mm genuine leather strap fits up to an 8-inch wrist circumference. The genuine brown leather strap will feel very comfortable on your wrist. I have a dark strap and a blue strap. When I want a change in my watch, I can easily replace these straps. 
If you don't prefer leather, you'll have plenty of choices as there are many variants. Some models come with a stainless steel band!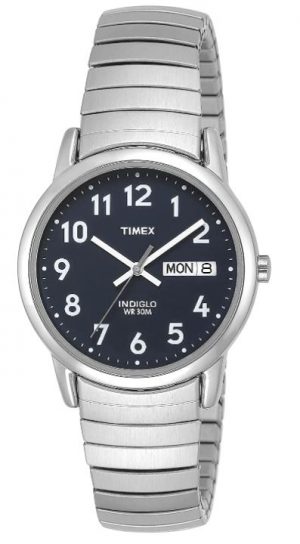 Check Price on Amazon
Performance
Timex Easy Reader uses quartz movement and it keeps track of seconds, minutes, hours, and dates. It doesn't make any loud tick noise. Its timekeeping is extremely accurate. Every month, the Timex Easy Reader will be five seconds off. So you have to correct the time after few months.
It has up to 100feets/30meters of water-resistant. It's not much but in this price range, it's not that really bad. I accidentally dropped my watch into the pool but it didn't have any problems or any leaking. It withstood all of the splashes of water and the water immersion. I actually don't know how it survived all of that. Maybe I was lucky then. Who knows?
It has a battery that lasts for at least 10 years. So you don't have trouble changing the battery so much.
Endurance
The Timex Easy Reader has a legendary durability threshold. Still, you should obviously take care of your watch. Even though I accidentally dropped this watch many times and it didn't have any noticeable scratch.
The Easy Reader is a direct descendant of Timex's televised torture test survivors from the 1960s. In the 1960s Timex put an early version of the Easy Reader through a series of so-called "torture tests" to ensure it could endure extreme scenarios like cliff-diving in Acapulco, Mexico. And it actually did withstand all the tortures!
Design
The clean design of the Timex Easy Reader sure looks awesome. There are six different styles which is not much but each of the six styles is made up of a mix of different colored casings and rugged leather straps, like silver with reddish-brown leather or gold dark. 
The white easy-to-read dial with a brown strap is the most common one. But I like the black leather strap because I think the black leather strap fits the most with my black suit.
The Timex Easy Reader's iconic simplicity is exactly what a watch should be: a well-crafted and sensible timepiece. Timex Easy Reader's display type is analog. The case is small and it's perfect for my small wrist.
If you like clean designs with a classic style, this watch will be a part of your liking.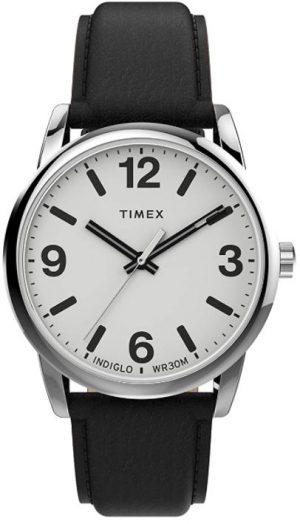 Check Price on Amazon
Value for Price
It's a really good watch with an attractive price. In fact, it's one of the best affordable watches out there. Because of its simple design, the Timex Easy Reader gives the impression of costing more than it does and also it includes all of the capabilities of a more expensive watch.
Although I've dropped this watch many times and tested its water resistance, The Timex Easy Reader still maintains time as well as when I first bought it as any other fancy watch could do.
Pros & Cons
Timex Easy Reader is a great watch but it's not that it has no flaws. So, I've described the pros and cons of this product so you can weigh them and decide if you wanna opt for one.
Pros
Large Arabic numbers that are easy to read
Indiglo backlight to see at night
10 years of battery for long term usage
30meters/100feets of water resistance
Built-in date dial
Cons
There are only a few styles available
It has no substantial features
The case may seem small to some users – especially with large hands
Check Price on Amazon
Frequently Answered Questions
If you have read all the information before, you will have a clear idea of this watch. But make sure you know everything before getting this watch. So I have added the answers to some common questions about this watch.
How to set the day and date on Timex Easy Reader?
At first, you'll have to pull the crown to the middle position and rotate clockwise until the right date comes. If that doesn't change the day then pull the crown out all the way and turn clockwise or anti-clockwise for the required number of 24 hour periods until the right day shows.
How do I activate Timex Indiglo?
You will just have to push the crown and the whole dial will light up for a few seconds. And if you let go of the crown it will stop. It's just easy as that. You will have no problem reading the time in the dark anymore.
How to change the battery of Timex Easy Reader?
To change a battery, you will have to remove the watch back first. Then you'll have to place the gasket to the side. Then just find the battery and remove it and replace it with a new one. And lastly, replace the gasket and the watch back.
If you don't want to change the battery yourself, you can just go to a mechanic. But it is really easy to change the battery once you have done it.
How to replace the Timex watch strap?
First of all, make sure the rear side of the watch is facing up. Then press the pin lever (there is one at each end of the watchband) inward.
After that, remove the band from the watch and set it aside.
Lastly, add a new strap in the reverse order.
The Timex Easy Reader was designed for simple adjustability. By changing the strap, you can get the feeling of wearing a different watch every day.
Do you need any special equipment to clean this watch?
You won't need any special equipment or detergent to clean this watch. To clean this watch, you'll just have to wipe it with a piece of cloth. Microfibers work like a charm and they can be easily found on Amazon. 
Wrap-Up of the Timex Easy Reader Review
The Timex Easy Reader was first released in 1977 and even in the 21st century undoubtedly this watch is one of the best affordable timepieces in the world. Inside the small and clean case, there is a dial with big Arabic numbers that are easy to read. Indiglo's backlight feature allows us to read the watch in complete darkness.
You can even see the day and the date using this watch. It has a battery that lasts for 10years, 30-meter water resistance, and decent durability. So overall it's a great option to get on a low budget.
Although it lacks some substantial features, how many things can you possibly expect in this price range? I hope you got the information you needed from our Timex Easy Reader Review. Do let us know if you have any questions below.