Not all heroes wear capes. And nurses are living proof of this statement. Especially during the horrid situation that we had gone through in 2020; doctors, nurses and other health workers had been working relentlessly with their lives on the line.
The job of a nurse isn't easy at all. From doing physical examinations, paperwork, prescribing medicines; to giving emotional support to the patient's family, a nurse does it all. A nurse even helps out doctors during critical operations. So, it's quite clear that the job of a nurse is quite strenuous!
That's great and all, but why is there a blog post for the best watches for nurses?
Well, a lot of tasks to be performed by nurses on a daily basis require precise timing. For instance, a watch is really handy while measuring heart rate, respiratory rate, injecting medications, and especially during charting. Therefore, while a watch can be a mere fashion accessory or just to check the time; it's an absolute necessity for a nurse. In order to make his/her life easier, a proper timepiece made specifically for nurses is a must.
But as there are so many options on the market, it can get a bit confusing regarding which one should be the perfect watch! That's where we come in. We have done extensive market research and found 15 best watches for nurses. In order to be more thorough, we went on and had a discussion with a couple of nurses (while they were off duty of course!) so that you can choose your perfect nurse watch without any second thoughts at all.
Moreover, we have added a buying guide and answered the most common (relative of course!) inquiries out there to facilitate your decision. So, without further ado, let's get into our list of the 15 best watches for nurses that you can go for in 2022!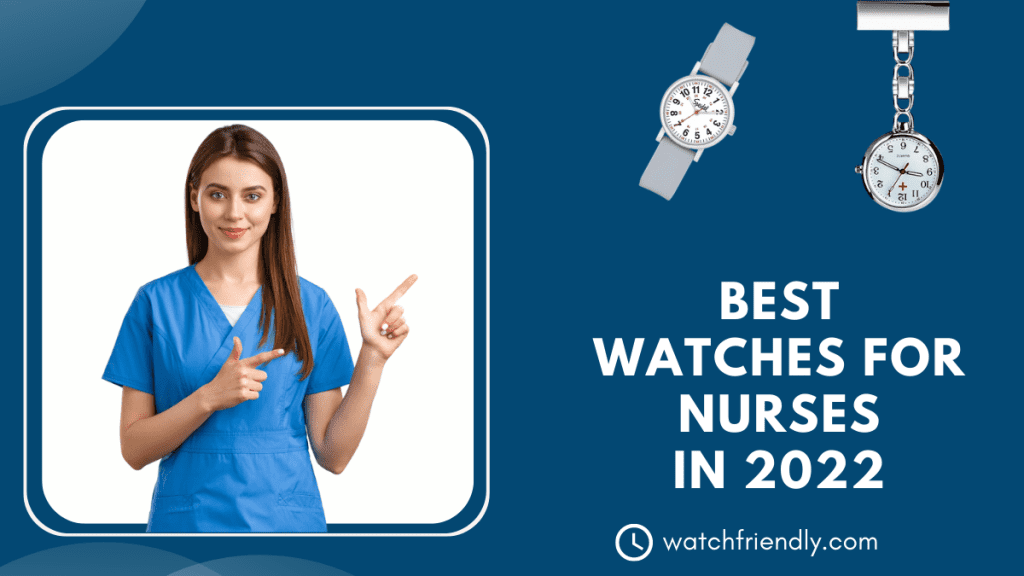 Speidel Women's Scrub Petite Watch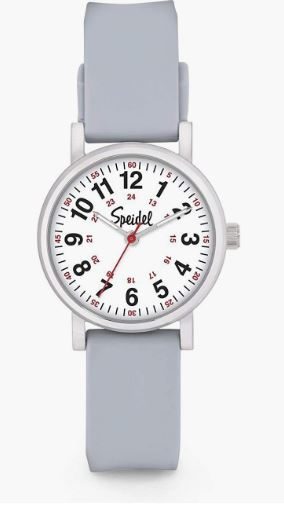 Check Price on Amazon
If you are in the medical profession for a while, you have surely heard about Speidel's Original Scrub Watch or seen one on a fellow nurse. This one here is its smaller version with the same, useful specs. It not only flaunts a simple face with easily visible numbers but also offers a three-hand, quartz movement.
In fact, it is available in 18 colors so you can choose your favorite. Other than its 12-hour indicators, the Speidel Scrub Petite features 24-hour markings in red. It has an unmistakable, red second hand that helps you take the pulse with greater efficiency. It fits wrist sizes from 150mm to 200mm. Not to mention, the water-resistant silicone strap holds up nicely in countless hand washes and cleaning procedures. And the fun part? Once exposed to light for 30 seconds, the watch hands will glow in the dark so you can work the night shifts with ease.
What we truly like about Speidel professional watches is that they do not compromise practicality in the name of fashion. Make no mistake; this petite watch looks no less adorable than your regular wristwatch. Besides, you can engrave its stainless-steel back for a personalized touch.
Highlighted Features
12-hour numbers with 24-hour markings
The bright red second-hand looks prominent in the white face
Three-hand quartz movement
Glow-in-the-dark watch hands for a better visibility
Water-resistant silicone strap
Available in 18 colors
Check Price on Amazon
Timex Unisex Expedition Classic Digital Chrono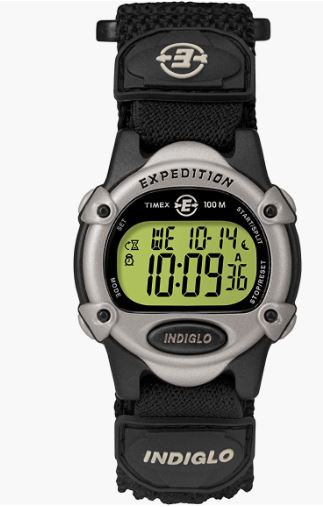 Check Price on Amazon
If you're not a big fan of the hands on an analog watch, a Timex Expedition Classic Digital watch can be your sweet escape. It also allows you to see the time as it is without having to interpret hand movements. Its nylon strap flaunts a contemporary design and is a much welcoming substitute to the silicone and leather strap nurses regularly wear. If you're working shifts at home healthcare services where strict attire isn't necessary, you'll surely love this unisex timepiece.
It features three daily alarms for the weekdays beside weekend alarms with a 5-minute snooze. Additionally, the Timex Digital Chrono supports the 24-hour military time with 2 time zones for your convenience. Now, we don't expect you to jump into a pool during your working hours. But its water-resistance up to 330 feet will come in handy in the times when you actually do (after the shift's over, of course).
As for the user-friendly specs on this brilliant chronograph, you get a 24-hour timer along with a month, day, and date calendar to cover all bases in timekeeping. Moreover, the 33 mm. resin case with the blue light-up digital dial looks polished enough for a professional getup.
Highlighted Features
Blue light-up digital dial with a well-made resin case
330-feet water resistance
Multiple daily alarms, a 24-hour mode, and two time zones
24-hour timer with a month, day, and date calendar
Hook and lock closure is fairly easy to put on and take off
The durable nylon fabric strap is suitable for wrist sizes up to 8 inches in circumference
Lap and split times on the 100-hour chronograph
Check Price on Amazon
VAVC Nurse Watch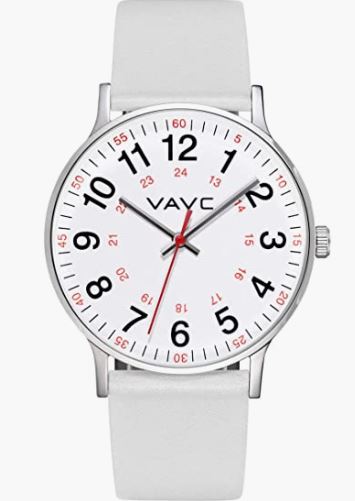 Check Price on Amazon
Many people confuse this incredible VAVC timepiece to be the Speidel Scrub Watch and we too couldn't help but notice the similarity. While the two look shockingly alike, this one will save you ten bucks or so for the best medical watch. It's because VAVC integrated the more affordable three-hand Japanese movement. Besides, it is made of surgical-grade stainless steel for unmatched durability.
Its 50-meter water-resistance is of the perfect level for nurses and medical students alike. The watch withstands rigorous hand-washing and sanitizing like no other. Its dial feels roomy enough to house all 12-hour and 24-hour tags without looking stuffed. Moreover, the second hand is highly visible for a flawless reading. The large hour numbers with markings in 5-second increments help you time a procedure with absolute ease.
You can easily sanitize the watch with a soft, microfiber cloth. Since the strap is constructed from genuine calf leather, it won't crack or chip off when exposed to water, moisture, and other damaging factors. The watch is now available in 19 colors and 6 fixed engraving options to gift your loved ones.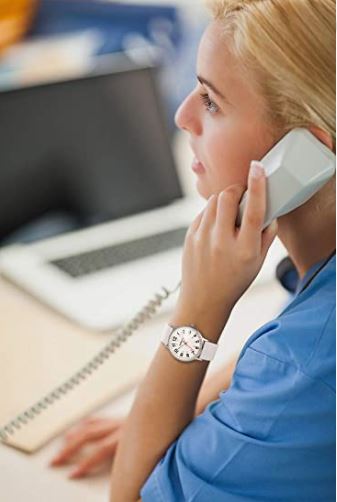 Highlighted Features
Sapphire-coated, and scratch-resistant mineral crystal
42 mm. watch case with a genuine calf leather strap
50-meter water resistance for withstanding daily water damage
Japanese Quartz movement makes the watch available in a lower price range
12-hour and 24-hour letterings for easy timekeeping
Check Price on Amazon
Wior Medical Lapel Watch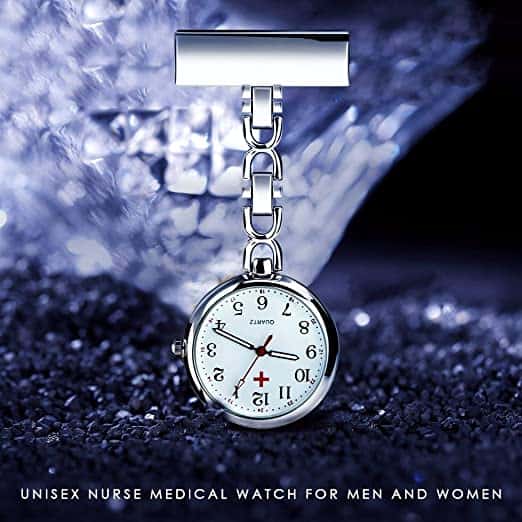 Check Price on Amazon
If you cannot wear a watch for long hours due to the tightness around the wrist, the Wior medical lapel watch is what you need.This medical lapel watch can help you pull off a traditional look without looking out of place at the job.
The charm of vintage lapel watches is difficult to resist. And being a nurse is not a piece of cake either. Since the job prevents you from wearing jewelry, you can flaunt the Wior lapel pin watch without pissing off management. It looks absolutely fabulous and serves the same goal as a wristwatch.
The 33 mm. case houses all 12-hour letterings in a big font. The red second hand beautifully stands out in the white dial. It is not suitable for bathing or swimming, but the watch can handle regular washing for sanitization purposes. We loved this unisex fob pocket watch for nurses because of its easy-to-read face and overall simplicity.
Check Price on Amazon
Highlighted Features
33 mm. case diameter with a 0.8 cm. thickness
8.2cm. long unisex fob pocket watch
Three-hand Quartz movement with 12-hour and 24-hour labels
Average water resistance
The pin-on system makes it easy to wear
Suitable for those who are not comfortable with wristwatches
Speidel Scrub Watch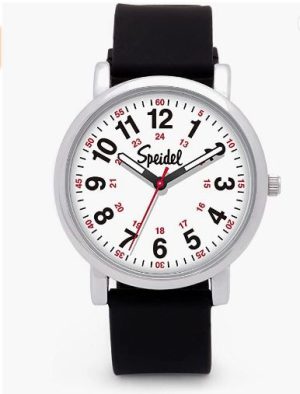 Check Price on Amazon
This is a much-loved analog watch for medical professionals of all sorts. Its medical-grade, soft silicone strap feels the most comfortable for a day-long shift at the clinic. You can also pull an all-nighter with the Speidel Scrub Watch on. Moreover, it easily survives up to 30 meters in water which means you get to keep the watch on during frequent hand-sanitizing and washing procedures.
Additionally, you have the option to swap the band in different colors for a change. Since medical professionals cannot but prioritize usability over looks, the watchband is a safe area where you can experiment with new colors.
As for the medical needs, you can enjoy the same precision as that of a digital watch. Thanks to its infallible three-hand movement. The second hand of the watch is red and the hour tags and the minute markers are clearly visible. It also fits a variety of wrist sizes up to 8.3 inches. We have reviewed its smaller version- Speidel Scrub Petite watch in an earlier section. So, you already know what great line of scrub watches Speidel makes.
Highlighted Features
Medical-grade, soft silicone strap
Withstands regular wear and rigorous washing
The clear hour and minute letterings help you time the doses with better precision
Lightweight construction for all-day comfortable wearing
Doesn't feel harsh on the skin
Check Price on Amazon
6. Casio Men's Quartz Resin Sport Watch
It's no news that Casio manufacturers some of the finest yet the most practical watches on the planet. And their Quartz Resin Sports Watch sings the same tune. It's one of those watches that make you take another look. For starters, it has a whopping 50.4mm. watch case with an intricately designed black-and-gold dial.
The matte black plastic band looks awesome and gives you an extra advantage during the countless cleaning times. The watch itself is water-resistant up to 100 meters. But here is what surprised us the most- this watch has an unbelievable battery life of 10 whole years. Besides, its 24-hour countdown timer and stopwatch is incredibly simple to start and keep a track of. The watch displays time zones of 48 cities with the city codes.
On top of that, the Casio Resin Sports Watch utilizes an innovative analog and digital display combination. It packs premium functionality at a justifiable price. For example, you get to set 3 alarms every day, time a medical procedure with the stopwatch, or set up a countdown for important visits, dosage times, and appointments.
Highlighted Features
10-year battery life
Analog and digital display combo
48 city codes and 31 time zones
Water-resistant up to a hundred feet
50.4mm watch case
Supports 12 and 24- hour formats with an easy countdown and stopwatch function
An easy-to-read, gold dial with separate day window and digital time
7. Timex Weekender Watch
Weekends do not mean boundless fun and joy in the life of a nurse. You might need to rush back to the hospital any time of the day to attend to an emergency call. In that case, the Timex Weekender watch can be the one thing that puts a smile on your face with its cartoon-inspired dial and stylish fabric strap. It is available in a lot of variants- each giving off a fresh, new vibe and adding new heights to timekeeping.
The Timex Weekender edition also features a cool collaboration with Peanuts. That's right, Snoopy and Charlie are here to brighten up your day in the form of fun wristwatches that go hand in hand with your duty. The Weekender has a beautiful dial and 12-hour tags with a three-hand movement. Their contrasting color makes it easy to read the time at a single glance.
And lastly, we loved how the Timex Weekender brought a new style to the game. Instead of randomly adding solid colors, they launched a cheerful motley of watch straps, dials, and cases to fit the occasion. You have the classic brown leather with the simplicity of a pure white dial as well as a brooding Snoopy with his baseball bat indicating what hour it is of the day. Pretty versatile, right?
Highlighted Features
Light-up dial for better visibility in low light conditions
The watch case fits all 20 mm. slip-through straps
Available in leather, nylon, and fabric straps
30-meter water resistance
Easy-to-read numerals and distinct watch hands for ease of use
8. Prestige Medical Nurse Lanyard Watch Military Time
Prestige Medical Nurse Lanyard Watches are one of the most suitable watches for medical students and professionals. Nurses need to keep track of time all along every day. They need to give medicines to patients from time to time besides taking the pulse and the heartbeat. So, having a watch around them is a must. Prestige Lanyard Watch is the perfect watch for fulfilling these duties on time.
The watch has a lanyard that allows you to wear it around your neck, and you can keep the dial in your pocket. Since nurses have to wash hands many times a day, using a wristwatch can be difficult to maintain. In that case, a Prestige lanyard pocket watch is there to make the day easy for you. Whenever you need to know the time, you can take it out of your pocket, see the time, and put it back in your pocket. As a result, you do not have to stick a watch on your hand if you are uncomfortable with it.
Highlighted Features
Lightweight, water-resistant construction
The small size makes it easier to carry the dial in the pockets
Battery-operated analog watch
Easy to read the time for clear marks
The black swivel lanyard with the break-away design makes it easily portable
Quartz movement
Gives military time, in other words, tells time in the 24-hours format.
Step second hands
9. Prestige Medical Analog Stethoscope Watch
Another medical watch is the Prestige Medical Analog Stethoscope Watch, which comes with a clip. This watch has no straps or lanyard. It is just a circular dial with an analog display. Doctors, nurses, and healthcare providers can attach this watch to their stethoscope with the clip. This way, they do not have to carry watches as an extra accessory anymore.
Medical professionals need to carry stethoscopes almost always in the hospital to check heartbeats and monitor blood pressure. Hence, they can have these watches with them sticking to the stethoscopes. It saves them from extra fuss and sweaty hands. Also, the necessity of a watch mitigates with the must-carry stethoscope. Moreover, you won't face any problems while listening to heartbeats through your stethoscope. The watch is lightweight and small in size. It also feels nice to carry such a cute and tiny watch with yourself, which comes with great specs at a reasonable price.
Highlighted Features
Light-weight and small in size
Quartz movement makes it easy to spectate the time.
Water-resistant case.
Battery operated analog stethoscope watch.
The back clip allows it to stick to the stethoscope tubing.
24-hour dial format with step second.
15-second highlighted quadrant
10. Apple Watch Series 4
If you are looking for a premium smartwatch with advanced technologies and features, Apple Watch Series will provide all of those specs with the best satisfaction. The Apple watch series 4 has brought a revolution to the smartwatch industry. The stylish and compelling design makes it worthy of carrying with both formal and casual outfits. They are available in three different colors- silver, space grey, and gold. The Apple watch series 4 is one of the best options for nurses to set reminders and have records of their attending patients.
To begin with, the rectangle-shaped watch comes with sapphire crystal glass front and back with a stainless-steel frame. It features Bluetooth and internet connectivity as well as wireless charging. Moreover, this watch has a high-resolution display with biomechanical features, internal storage, speakers, and whatnot. But the advanced features do not cover up the opposing side of this watch. If you do not have an iPhone, you will not be able to use the Apple Watch 4 to its fullest potential. That said, if you are willing to buy an Apple watch, then you also have to buy an iPhone to get the Apple watch connected with Bluetooth.
Highlighted Features:
3D touch display.
Internal storage with a capacity of 16 GB, 1GB RAM with no card slot.
Wi-Fi and Bluetooth connectivity.
GPS tracker.
Water-resistant to 50 meters.
Optical heart sensor.
Improved accelerometer and gyroscope
Barometric altimeter
Speaker, microphone, and ambient light sensor.
Apple pay and Gym kit
USB power adapter
No camera or video recorder.
11. Fitbit Alta HR
Fitbit Alta HR is a unique smartwatch for its futuristic design. It has a sleek 15 mm black body with a whole lot of advanced features. The design of Fitbit Alta HR gives formal vibes, which allows you to wear it outside your workplace. Nurses are sure to love this watch because of its super useful specs and casual look. The sleek, simple design of this budget-friendly Fitbit will give you a boost of confidence with the scrubs.
You can buckle up this watch with any kind of formal dress or uniform of any color for the strap-swappable feature. Undoubtedly, this little piece of the stylish and smart timepiece brings you confidence with your formal look. Besides, if you are a gym-goer, you will find this Fitbit the most suitable for its lightweight and simple frame.
Highlighted Features
Weighs only 0.05 pounds.
The stylish and smart design brings an exquisite look to the whole watch.
You can swap the strap
Long battery life lasts for 7 days once fully charged.
Continuous heart rate tracker.
Can measure footsteps, distance, and burnt calories.
Counts sleep hours by the spent time in light or dark.
12. Dakota Clip Watch with LED Flashlight
Sometimes wearing wristwatches feels like you are sticking something on your hand all day long. It gives you a patchy feeling on your hand, making you uncomfortable if not used to it. Nevertheless, you cannot help but carry a watch for the sake of your work or duty. For instance, nurses always have to maintain their duties on time. So having a watch is a must for them.
Dakota clip watches are here to save you from this mess. The most attractive quality of this mini clip microlight watch is that you do not have to wear it on your wrist. Instead, you can carry it onto your waistband, or you can clip it anywhere on your uniform, which is useful to nurses for the type of their job. Its digits are large enough to notice in low light conditions. Besides, the luminescent hands gleam in obscurity and ensure proper timekeeping at night.
Highlighted Features
The quartz used in this watch has a guarantee of 5 years and a 4-year battery length
Available in 15 colors
Comes with a flashlight, which makes it a little torchlight
Water-resistant to 100 feet
Includes a high continuance gem made of mineral glass and a hardened steel case
Not a good one to use if you have to hustle at your work
13. Timex Ironman Essential
Timex Ironman Essential is a digital watch with a large display. The bold design of this watch sports a circular watch case and a stylish smooth black silicone strap. Needless to say, the unisex design of this watch gives pleasure to wear it at work, gym, or medical school, and also for sports. Nurses can also easily carry this watch with their uniforms.
The straightforward display, conspicuous numerals, and effortless controls make it easier for you to observe this timepiece. Besides, the bold and mega-size of the Timex Ironman dial can give you a charming formal look. The sporty design of this watch allows you to wear it while playing your favorite sport, which will be up to the standard of your expectation. You will find it comfortable and durable to carry for everyday use. It is not a smartwatch, yet it comes with many advanced and digital features, making it worthy of buying without a second thought.
Highlighted Features
Water-resistant to 100 meters
Available with a comfortable resin strap
You can set the alarm once daily or weekly with 5-minutes backup
Stopwatch with 30 lap memory
Available with a countdown timer
99-lap counter
Travel friendly with double time-zone settings
White reflector display in the daylight, and INDIGLO light-up dial for the night shifts
14. MorePro Waterproof Health Tracker Watch
The MorePro Health Tracker Watch is another cool kind of smartwatches. If you are a smartwatch lover and a fitness fanatic, this Health Tracker would be your ideal match for its perfect style and function for everyday life. The watch is eye-catching not only for its smart design and sophisticated colors but also for its advanced features.
The MorePro brand is mainly dedicated to fitness lovers to help them achieve their goals and keep track of progress. The Health Tracker is packed with features regarding fitness and healthcare. For example, it comes with a bright 1.14-inch IPS color screen and offers you an impressively accurate pedometer, ECG, and PPG functions. It gives you sedentary reminders for when you are dozing off on a night shift. You can view notification alerts from your smartphone on this innovative timepiece. Moreover, the 7-day battery power solves the hassle of charging the Health Tracker every two days or so.
Highlighted Features
1.14 inch IPS color screen
IP67 water-resistant and also dust resistant.
The light detection feature allows it to measure your sleep hours.
Works as a pedometer.
Available with ECG and PPG specifications but not continuous.
Measures blood pressure and burnt calories.
Works as a sedentary reminder.
Allows smartphone notification alerts.
Comes with GPS support and Bluetooth connectivity
Seven days long-lasting battery life.
Adjustable brightness
15. Casio LRW200H-7BVCF
Casio LRW200H-7BVCF is a women's watch. For the ladies who like to wear fancy colorful watches, this one is a great option for them. After all, watches are not just a formal necessity, but also a matter of style and fashion. Some women prefer wearing watches that match their dresses. And if you are one of them, then you will find this Casio watch quite hard to resist.
It is comfortable to wear all day long for its resin straps and weightless case. Also, the available colors of this watch are really fun. These cute little timepieces can help you bring a classy casual look. The design of this watch also goes with any formal look at workplaces. Nurses can easily carry these watches with their scrubs. The durability is also unquestionable. So, you can purchase these pretty casual watches, yet affordable for everyday use.
Highlighted Features
100-meter water resistance.
Available with a date display at 3 o'clock.
Both 12/24 formats are available.
Battery operated.
Three-hand quartz movement.
Round dial with stainless steel backing.
Luminous hands with large numerals.
Easy to observe time for clear marking.
Adjustable resin case and strap.
Available with one-way rotating bezel.
Comes with a buckle clasp.
A variety of colors provides many options.
Buying Guide: What is the Best Medical Watch for Nurses?
At this time of the year, when the COVID-19 pandemic is on the rise, doctors and nurses are working round the clock to provide important medical services. In order to keep track of everything, they need the best medical watch to pull through this tough time. That is why, those who never really paid attention to what type of watch is suitable for nursing jobs, are inclined to know now more than ever. Especially during the COVID-19 period, it's becoming increasingly hard for doctors and nurses to catch a moment to breathe- and even harder to keep track of time.
When it comes to picking the best scrub watch for nurses, functionality should be your top priority. A watch that solely serves a fashion purpose can be unsuitable for medical professionals; in many cases, dangerous as well. You need a dial that is big enough for comfortably seeing all three hands across easily visible, 24-hour numerals for working double shifts. The fact that you will be wearing the watch for long periods calls for a comfy strap that doesn't feel like a leash around your wrist.
As you can see, picking the best watch for medical students, nurses, and doctors is not the easiest. There are a ton of factors for you to consider and we sincerely value your time. For your comfort, we have added a comprehensive watch buying guide below which will help you to understand the ins and outs of watches.
Types of Watches for Medical Professionals
Although wristwatches are a common sight everywhere in the present time, there are quite a few variations that you can give a go. If you want to add a touch of newness to your plain old scrubs, consider the following options for a fresh, fashionable look.
Analog VS. Digital: Which One is the Best for Nurses?
Analog watches are timeless pieces you simply can't have enough of. They look exquisite, they tell the time, and in all their glory, they help you pull off a simple outfit and look gorgeous nonetheless. The thing about analog watches is that they incorporate a three-hand movement. It means there's a hand for each unit of time- hour, minute, and second.
It's of the perfect type for your job considering that you frequently need to take pulses, check heartbeats, or attend to a specific patient in short intervals. The second hand on a medical watch is usually of a different color than the other two and stands out brightly against the simple dial. Take the Speidel Scrub and Petite watch for example. Additionally, the VAVC analog watch is a cheaper alternative. There can be a day and date window on the dial for keeping up with the futuristic smartwatches.
As for digital watches, the display shows the time, day, and date in plain numerals. For many people, it is considered the better type for accurately telling the time. Whereas we somewhat agree with them, the brand-new smartwatches are the most advanced among the three. We'll also talk about two different types of watches manufactured especially for nurses in a later section. But, first, let us tell you about our top favorite digital watch for nurses. It is no other than the Timex Ironman Essential. Its 43 mm. Resin watch dial and white reflector display sit beautifully amid the soft silicone band. Then there is the Casio Sports Resin watch- a brilliant blend of analog and digital features for a bold yet practical timepiece.
Smartwatch
As you read the word "smartwatch," a picture of a Fitbit or an Apple Watch instantly popped up in your head. These gloriously sleek devices flaunt the latest technology science has to offer you. While each has a price tag that is worth at least ten analog watches, a smartwatch is your gateway to high-end fashion and functionality as a whole. If we are to pick the best smartwatch for nurses, we have to choose the MorePro Health Tracker over the Apple Watch series. It is simply because the latter is too sophisticated for anyone to focus on their work. Water-resistant to 50 meters.
It has an optical heart sensor that monitors your own heart rate. The upgraded accelerometer, barometric altimeter, and gyroscope track the movements of your body, steps, and such. Like timekeeping wasn't enough, the Apple Watch 4 also comes with an ambient light sensor, speaker, and microphone. The readings on an Apple Watch are impressively accurate. But, for the price, you can easily settle for cheaper options since you won't be needing a lot of these specs on the job. In that case, the MorePro Health Tracker packs a lot of punch in a minimalistic attire. IP67 water-resistant and also dust resistant. It works as a pedometer, measures blood pressure and burnt calories, and gives sedentary alerts. On top of that, it shows ECG and PPG specs with a fast-syncing feature that shows these real-time updates on your smartphone.
Stethoscope Watch
This type of watch comes without a band because the dial is strapped to your stethoscope tubing. When it comes to monitoring the heart rate, a watch dial that is right in front of you rather than on your wrist is a more feasible option. Keeping that in mind, feel free to read our Prestige Stethoscope Watch review and try one out for yourself. Then we have the Prestige Medical Nurse Lanyard watch that shows the military time and hangs from your neck like an ID. Thankfully, it is also somewhat waterproof. A good level of water resistance is crucial for medical watches since they can be frequently exposed to splashes of water or antibacterial solutions on the job.
Lapel Pin/ Pocket Watch
The hype of exquisite lapel pin watches has worn down over the years after wristwatches came in all their glory. Nowadays, a nurse with a lapel watch is a rarity. Truth be told, it is all the more reason why you can go for a subtle change. Lapel pin watches are attached to your scrubs and the watch case hangs from a fashionable chain. They are quite practical to use considering you can keep both of your hands free on your duty. Check out the Wior lapel pin watch and see how well it suits you!
Frequently Asked Questions
What is a scrub watch?
Having a watch for nurses is a must to be on time. The Prestige Medical Nurse Lanyard Watch, Prestige Medical Analog Stethoscope Watch, Dakota Clip Watch are a few easily portable, job-friendly watches for nurses. Usually, regular wristwatches are prohibited from use for nurses as it increases the risk of bacterial infection for the patients.
Why do maximum nurses wear a watch?
Nurses need to be very punctual and active at their workplaces. They need to give medicines, injections, saline, and check on heartbeats, blood pressure, body temperature from time to time. Moreover, they sometimes have to attend to more than one patient at a time.
Therefore, wearing a watch is an untold essential requirement of their job. If nurses do not maintain their timetables properly, they can be responsible for serious inconvenience. That is why maximum nurses wear watches to keep track of time.
Why do some of the nurses wear watches inwards and upside down?
Some of the nurses prefer to wear watches inwards of their wrists. It is not an obligation for nurses to wear watches like this. Those who wear wristwatches inwards of their wrists want to avoid reflection of light while observing the time. Sometimes, nurses need to give a quick look at their watches; at that moment, the reflection of light might waste more time to see the watch hands.
Besides, one hand remains busy with holding the hand of the patient while taking pulses. Some nurses find it more advantageous to spectate time on their watches if they wear them inwards the other hand.
Again, the watches that clip onto the uniform pocket remain upside down so that only the wearers can see the time.
What is the best watch for nurses?
Nobody can say which watch is the best for nurses. There are lots of varieties of nurse watches with different features, and at different price levels. The Apple Watch Series 4 is a great option for the nurses who own an iPhone. The advanced features and sufficient storage are very much useful for them to have records of the patients and their medicines.
Furthermore, they can use their watches in a sudden critical condition of any patient to check their heart rate and blood pressure instantly. So, the Apple Watch Series 4 is a convenient option for nurses to buy. If the budget is a matter of fact to you, Prestige Medical Nurse Lanyard Watch would be a potential option. The little lanyard watch is much affordable to buy. Also, it ensures less bacterial germs on your hand.
Why is it not safe to wear wristwatches for nurses?
Wristwatches are not that safe to use for nurses because wristwatches remain so close to their hands, it is easier for bacteria and viruses to be picked up and passed on to the patients. It can cause infection of the patients.
So, a pocket watch or a stethoscope watch is much safer to use for the nurses at the hospitals. Prestige Medical Nurse Lanyard Watch, Prestige Medical Analog Stethoscope Watch, Dakota Clip Watch, etc., are some popular pocket watches for nurses and doctors to use at the hospitals.
Final Words
Watch is one of the most essential accessories for people before going out to be on time for their duties. Nursing is an important profession since they serve the ailing patients at hospitals, healthcare centers, and clinics with utmost care and attention. That is why we came up with the best watches for nurses reviews right on time. Some of the nurses prefer wristwatches while others prefer pocket watches. On a similar note, nurses who are on a budget will go for affordable ones with better features. Then again, some of them want to buy smartwatches so that they can set reminders or use them in other necessities on their duty. But whatever it is that you desire, we bet you found a suitable watch for nurses from our list. Thanks for reading!