When it comes to men's grooming, watches are always prioritized more than other stuff. Watches enhance men's smartness and manliness. So, choosing a standard watch sometimes proves to be quite a tough job.
As always, to help you all in choosing a remarkable watch for you, we have brought the Seiko SNKN37 review into the field. It is a beautiful timepiece that is quite affordable. It is unquestionably a value at the price with its cushion case and modern yet classic-vintage appearance. The watch is undeniably a must-have for all the men who wish to stand out in the crowd thanks to its cutting-edge technologies and elegant design.
Depending on where you get it, it's usually less than $200, and it goes great with any outfit you could wear. The exquisite fit of the watch on your wrist will undoubtedly draw compliments, despite the fact that the dial and band may resemble those from the 1970s. Seiko is one of the most well-known watch brands in the world, and they completely outdid themselves with this timepiece.
So, let's go through the review of the Seiko SNKN37, shall we?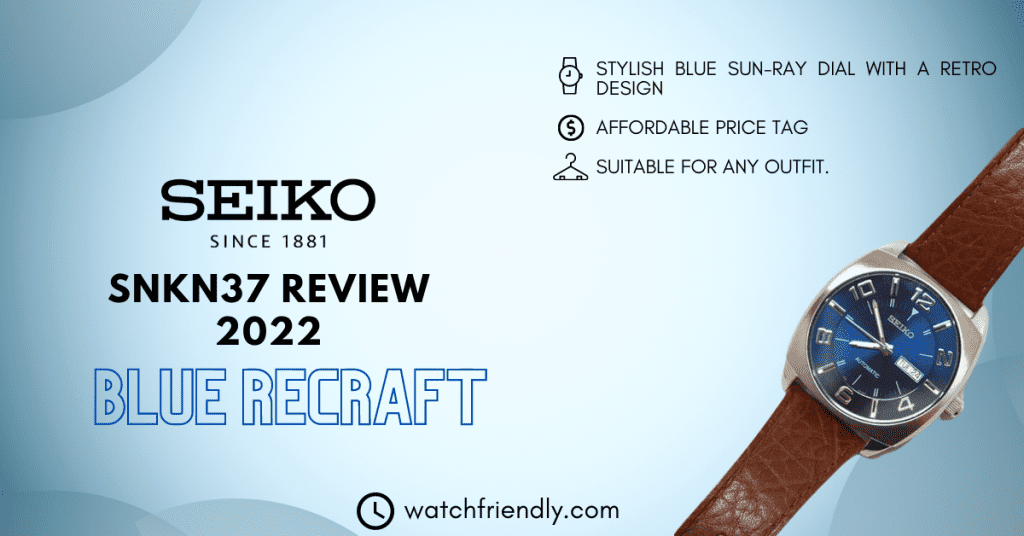 Check Price on Amazon
Seiko SNKN37 Review: Watch Specifications
CASE
SIZE: 43.5 mm
THICKNESS: 11.4 mm
COLOR: Silver-Tone
MATERIAL: Stainless Steel
SHAPE: Cushion
BACK: Transparent
BAND
BAND MATERIAL: Leather
BAND TYPE: Strap
BAND COLOR: Brown
BAND WIDTH: 24 mm
CLASP: Tang
DIAL
COLOR: Blue
TYPE: Analog
CRYSTAL: Scratch Resistant Hardlex
HANDS: Luminous Silver-tone
DIAL MARKERS: Alternating Arabic Numeral and Index
SECOND MARKERS: Minute Markers
LUMINESCENCE: Hands and Markers
BEZEL: Fixed Smooth
BEZEL COLOR: Silver-tone
BEZEL MATERIAL: Stainless Steel
CROWN: Pull / Push
Movement: Seiko Caliber 7S26 Automatic self-wind movement
Movement Features: 21 jewels, 21,600 vibrations per hour or 6 beats per second, Non-hacking and cannot be manual wind
Accuracy: +-15 seconds per day
Power Reserve: 41 hours
Features
WATER RESISTANCE: 50 meters / 165 feet
CALENDAR: Day of the Week and Date display at the 3 o'clock position
FUNCTIONS: Date, Day, Hour, Minute, Second
SPECIAL FEATURES
Stainless Steel, Leather, Analog
Modern design with a vintage feel.
Gorgeous blue sun-ray dial.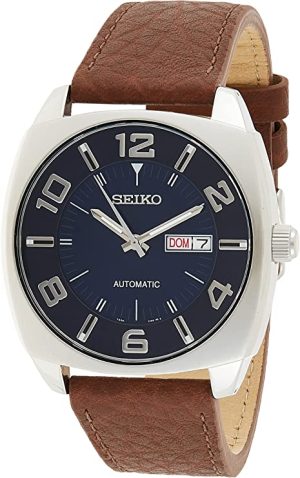 Check Price on Amazon
Dial
The Seiko SNKN37's blue sunburst dial, which is simply too lovely to look at, is the first thing that everyone will notice about it. Its gorgeous dark blue dial is large enough to accommodate a man's wrist. Some people might find the square-shaped dial unusual, but it is what makes it stand out from the crowd.
The watch has large indicators that combine index and numeral markings. I really like this design because it's not overly cluttered while still making it very easy to discern the time thanks to the large numerical marks.
Steel markings give the watch more elegance and an attractive appearance. If you observe carefully, you'll also see that the outer dial is actually a little higher than the inner dial. Such attention to detail enhances the watch's visual appeal.
It should be mentioned that there is no lume in this watch.
Movement Type
One of the best things about this watch is that you won't ever have to worry about replacing the batteries with this watch as it has an automatic self-wind mechanism in it. This system lets the watch extract and stores energy from the movement of your arms to power the hands. That is why the more it is used, the more it will last.
The movement's specifications include 21 jewels, 6 beats per second, a 41-hour power reserve, and an accuracy of +-15 to 20 seconds each day.
This does not imply that the watch will cease to function as soon as you remove it from your arm. Because of its power reserve, the watch will continue to function for at least two more days if you wear it all day.
Additionally, the automatic movement is very precise. In other words, all the hands are incredibly smooth and effective in keeping precise time for you. This is one of the model's distinguishing features because there is nothing better than a watch you can be sure will always keep the correct time and never run out of batteries.
Case
The Seiko SNKN37's barrel-shaped case design is one feature that makes it so popular with enthusiasts of vintage watches. A few decades ago, timepieces with rectangular shapes were popular. The majority of watches on the market right now are round, thus the Seiko SNKN37 is unquestionably a fascinating watch for anyone seeking something different.
It is also a smart decision of Seiko to modernize the watch form by enlarging it to 44 mm. More of that stunning blue dial is visible to us because of the larger size and trendier design.
It should be mentioned that the watch is pretty heavy due to its material and steel case. This watch is ideal if you want a look that commands attention on your wrist.
Of course, only wrist sizes between average and large can comfortably suit it with a 44 mm diameter. I strongly advise against getting it if you have smaller wrists because of this.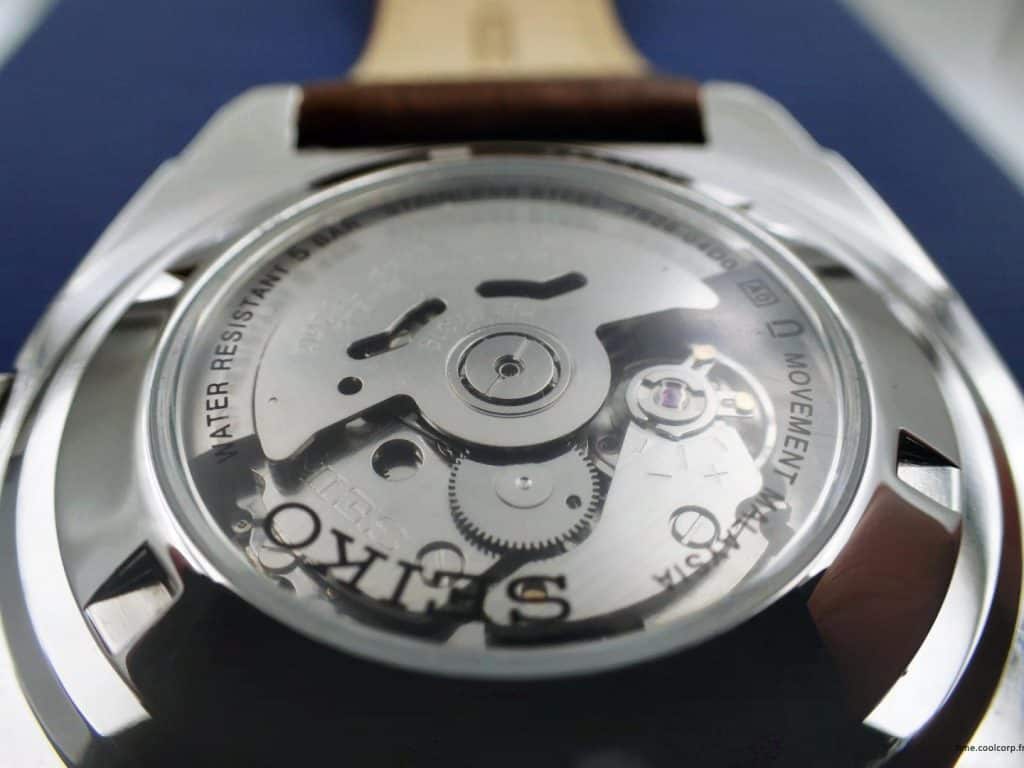 Check Price on Amazon
Brushed and Polished Finish
A blend of brushed and polished finishes can be seen on the 12 mm thick case. The Seiko SNKN37 case's brushed finish on top, which contrasts with the polished dial, is a nice touch by Seiko.
Additionally, the short lugs' polished finishing is a really beautiful finishing touch. Even if the watch is reasonably priced, the attention to such minute details is really appreciated.
A hardlex crystal, a Seiko-exclusive mineral crystal variety with greater impact resistance than regular mineral crystal, is placed on top of the straight side casing.
Sadly, the hardlex will accumulate some scratches, with tiny, invisible dings nearly always visible.
Strap and Caseback
On its 24 mm lugs, the Seiko SNKN37 features a cushioned brown leather strap. However, you guys may quickly get an aftermarket strap online if you'd like a different strap for this watch.
The automatic movement is visible through the exhibition caseback on the watch's back. The automatic movement is basic stainless steel since it is an inexpensive automatic watch. However, the ability to see a movement's underlying mechanisms and gears is a characteristic that is unique to it.
Special Features
The Seiko SNKN37 Stainless Steel Automatic Self-Wind Watch is water resistant like many contemporary timepieces, so you won't need to be concerned if some water accidentally splashes onto the display. You may even go swimming with it and see the time and date while underwater thanks to its 50-meter Limit.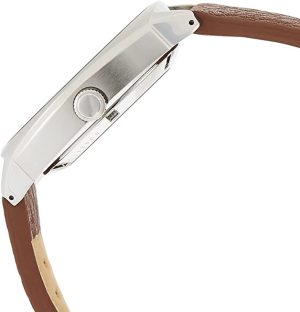 Check Price on Amazon
Day Date Display
Another reason the Seiko SNKN37 watch is perfect to wear in your professional environments, such as at work or school, is that it will also give you the day of the week and the month as it has a day date display on it.
But the day date window display on the dial may be one part that is unattractive. With its improper white display, it interrupts the lovely dial.
Though the day date display is so useful and convenient for our daily use, it just doesn't go with the dial.
Pros and Cons
Pros
Stylish Blue sun-ray Dial
Large indicators make it very simple to read the time.
Price is quite affordable for its offerings.
It suits ANY outfit.
A distinct retro design and a large case size
Transparent caseback
Comfy brown Leather band
Cons
A 7S26 automatic movement without hacking and manual winding functions is a little outdated.
Quite big in size so not for small wrists.
Absence of luminous paint.
Check Price on Amazon
Final Words
The Seiko men's SNKN37 is one of those timepieces that will draw positive attention to your wrist. Its classic design and gorgeous blue sunburst dial are really gorgeous to look at. Along with that its large barrel-shaped case gives it a noticeable wrist presence.
One key thing from this review is the watch's appearance, which is neither too dated nor overly showy. The SNKN37 is a must-have for all businessmen, professionals, or anybody searching for a strong, dependable timepiece for all occasions because it boasts cutting-edge features without being overly flashy.
Anyone who prefers a blue sunburst dial and something distinctive from other watches (such as a retro design or a large, rectangular case) should give this some serious thought. On the other hand, people with small wrists should avoid it as it is not supposed to look good on small wrists.
Overall, the Seiko SNKN37 is a reliable timepiece and, at the time of this writing, is unquestionably among the best watches on the market in terms of value.