Timex has always been one of my favorite go-to watch brands, especially for its simple yet functional designs that come with an affordable price tag. Therefore, when we get our hands on a new model, we can't wait to post a review of it. Our Timex New England Review will give a detailed specification of the watch so you can decide whether it is worthy of adding to your collection. 
Just like the Timex Weekender, the Timex New England watch is a classic and timeless timepiece that combines elegance and sophistication into a perfect blend. The watch features a sleek and minimalistic design, easy to read dial, and comfortable straps.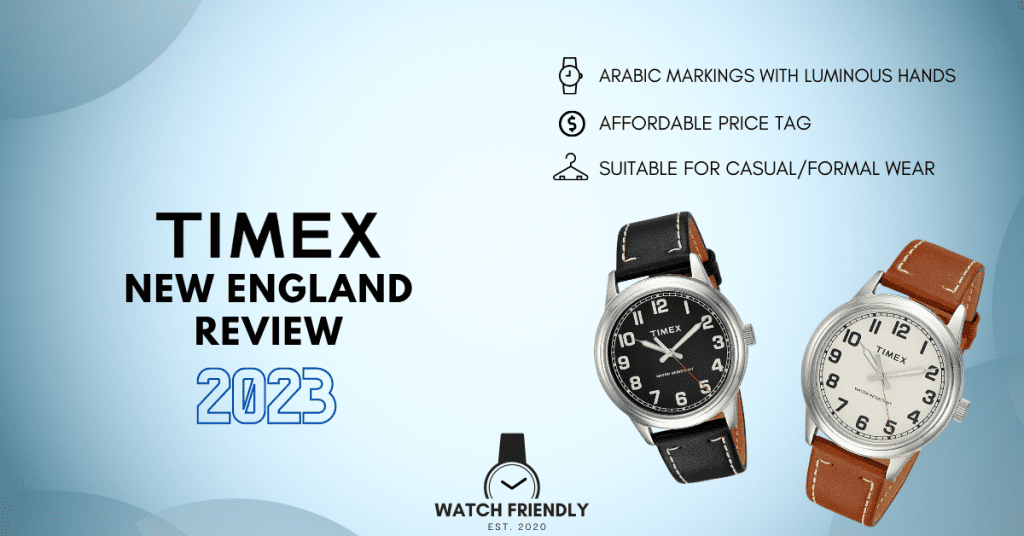 Timex New England Review: Specifications
Watch Type: Analog
Case Shape: Round
Case Diameter: 40 mm
Material: Brass
Band Color: Black
Case Color: Silver-Tone
Case Finish: Polished
Case Height: 9.5 mm
Buckle/Clasp: Both options are available
Watch Glass: Mineral Glass
Dial Color: Natural, Cream, Black & Blue
Dial Markings: Arabic
Watch Movement: Quartz Analog 
Water Resistance: 30 meters
Dial & Movement
The dial of this Timex timepiece is one of the best features that make this watch worth it. Timex has a clean and easy-to-read dial, with bold & contrasting hour markers and hands that are coated with a luminescent material, making it easy to read the time in low light conditions. 
The markings are Arabic and there is no date window on the New England. 
Like most Timex watches this one is also powered by a quartz movement, which is known for its accuracy and reliability. 
Related Read: Timex Easy Reader Review
Durability
One of the standout features of this watch is its durability. The stainless-steel case is robust and scratch-resistant, while the leather strap is built to last and can withstand daily wear and tear. The watch is also water-resistant up to 30 meters, making it suitable for everyday wear, as well as for activities such as light swimming. 
Be careful not to go deep diving or snorkeling with this watch. If you're looking for an amazing diver watch at a great price check out our Casio Duro Review.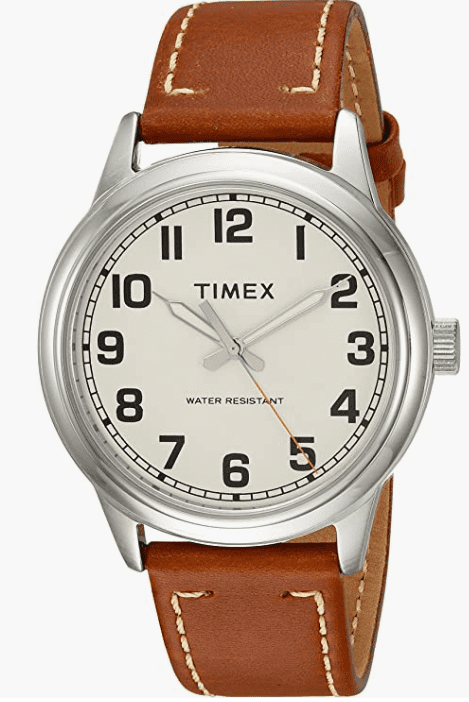 Watch Strap
The Timex New England comes with a lot of variants that feature different two kinds of watch straps. The most commonly owned models come with comfortable leather straps with contrast stitching designs. These models feature a buckle option.
The other models come with full stainless steel straps and a clasp system. The dials are different and come in blue/black with contrasting colors. Naturally, they come with a slightly higher price tag. 
Variants 
The watch comes in a variety of colors, including black, brown, and tan leather straps, and silver, gold and rose gold cases. This allows for a range of options to match different fashion styles, personalities, and occasions. The watch also comes in a variety of sizes, making it suitable for both men and women.
Pros & Cons
Pros
Sleek and minimalistic design.
Scratch Resistant Mineral Glass
Pretty accurate quartz movement
Clean dial with clear, big markings & Luminous hands
It comes with different strap options for mass convenience
Cons
No Indiglo Light
No date window 
Price ranges from $80-100, which feels a bit high considering the brand and brass material
Some users experienced the watch crown popping out sometimes and changing the watch time abruptly.
FAQs
Does the Timex New Englander have Indiglo Feature?
Sadly, the Timex new Englander does not feature the signature Timex Indiglo light. It comes with luminous hands, making it possible for people to check the time at night. However, it's not as convenient as the Indiglo light.
Does the Timex New England watch tick loudly like the Weekender? 
Fortunately, the Timex New England seemed really quiet to us! 
Leather Strap or Stainless Steel: Which One Should I choose?
Well, it depends entirely on your preference. However, our two cents would go for the variants with leather bands (black ftw) as there better alternatives if you wish for a stainless steel strap. 
If you have a slightly higher budget and prefer a stainless steel watch, check out our Orient Ray II review.
Final Thoughts
Overall, the Timex New England watch is an excellent choice for anyone looking for a durable, reliable, and stylish timepiece. It is the perfect choice for both formal and casual occasions, and its timeless design means that it will never go out of style. Although it lacks the Indiglo feature, the sleek design alone could be enough for you to add it to your collection. With a price point that is very reasonable, the Timex New England watch is a great value for anyone looking for a high-quality watch.